If you're looking for cheaper or free Surfer SEO alternatives, this article is for you.
What is Surfer SEO?
Surfer SEO is an AI-powered all-encompassing SEO platform with superior, NLP-based algorithms. Content marketers leverage its features to create a content strategy, build article outlines, write great content, do SEO audits, internal linking, and much more. It is a swiss-army knife for generating high-quality content for ranking in SERP.
But there might be a case when you are not using all of its features. For example, you might just be doing keyword research or creating content briefs, then Surfer SEO might sound expensive.
That's why we have reviewed here some of our tried and tested, paid as well as free Surfer SEO alternatives.
12 Chosen Surfer SEO Alternatives to Use in 2022
In this article, we will review a few selected, free, and paid Surfer SEO alternatives that provide one or more similar functions. We will also list some premium tools in each category.
Here is a short summary of the Content and SEO tools that we will cover in the article:
Function
Tools
Content Planning / Keyword Research
Keywords Everywhere, KeywordTool.io, Ahref's Keyword Generator
Premium: Ahrefs, Moz, Semrush
Content Brief
Frase, Content Harmony, Contenteum, Postpace
Premium: MarketMuse, Clearscope
Content Creation / Optimization
Frase, Yoast SEO, Grammarly, Wordtune
Premium: MarketMuse, Clearscope
SEO Audit
Woorank, Raven Tools, Screaming Frog SEO Spider
Premium: Ahrefs, Moz, SEMRush
Content Planning / Keyword Research Tools
Though there are tons of free and paid tools that help with keyword research, below are a few of our favorites.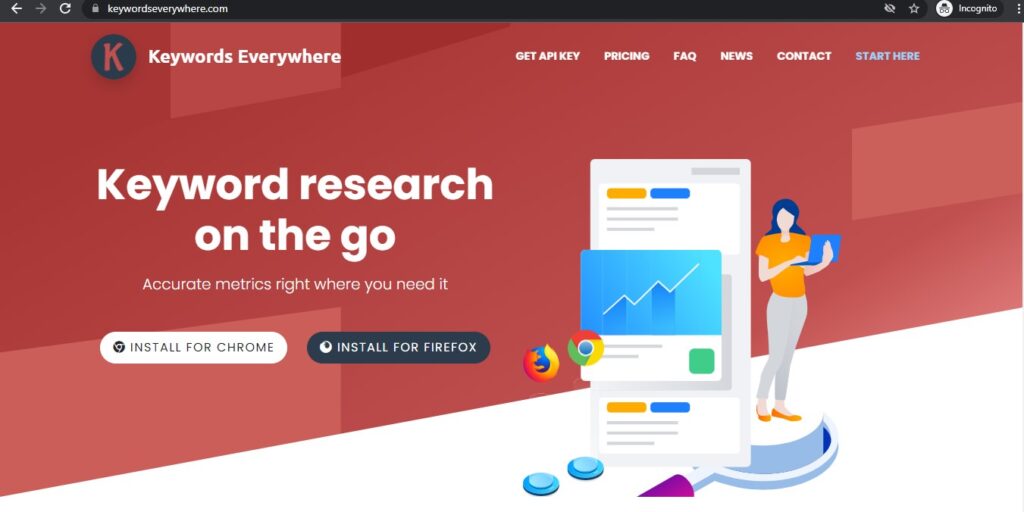 In our experience, Keywords Everywhere's Chrome extension is the best solution for researching keywords on the go. Its accurate search volume, cost per click, and competition metrics help you find long-tail phrases.
Pricing: You can use the Chrome extension for free which provides enough data to start with keyword research. The basic plan starts from $10 a time which gives 100,000 credits (keywords).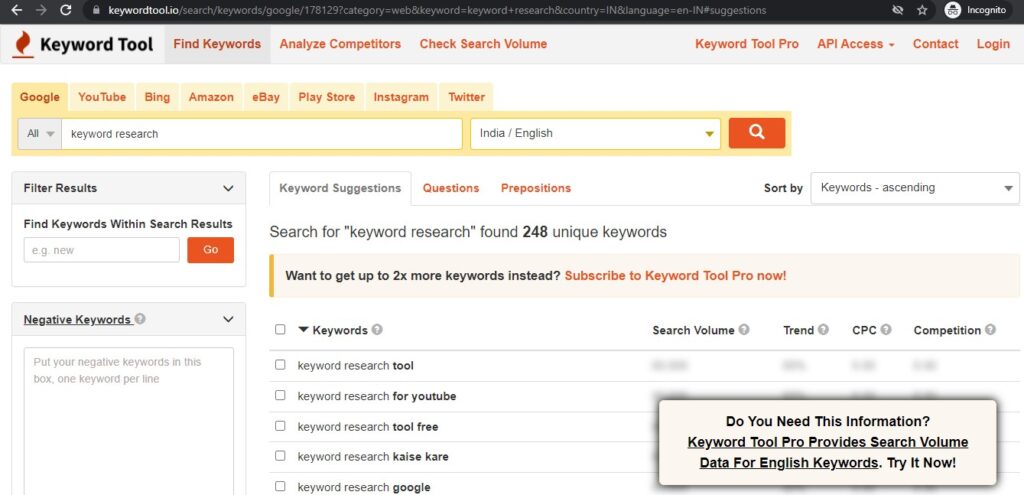 Keyword Tool helps you learn about what people search for online. It displays the search terms, products, and hashtags that are most popular on different search engine platforms across the world.
Pricing:
The free plan offers keyword suggestions and limited data. For more data, pro plans start from $69/month (For 7,000 keywords search volume analysis/day).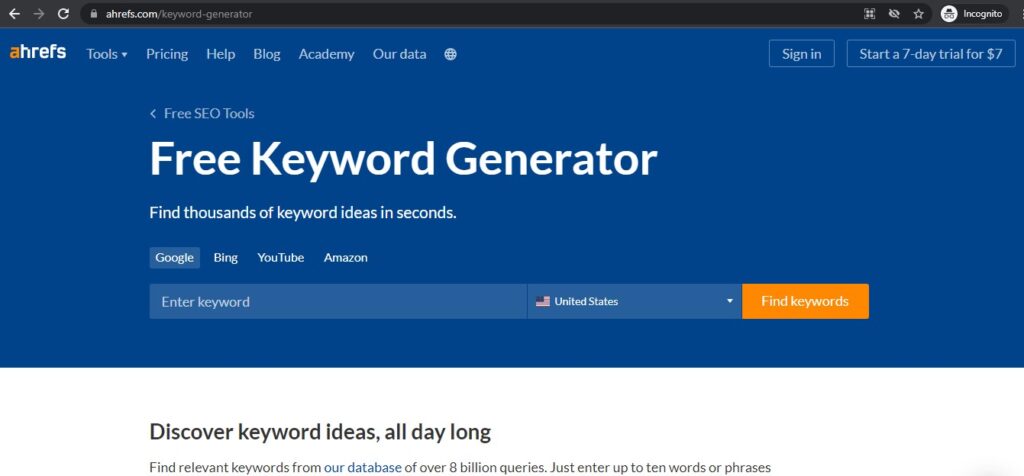 Keyword Generator is one of the free SEO tools that Ahrefs provides. It is an interesting tool to get long-tail relevant keyword suggestions with volume and keyword difficulty. No signup, no paid plans required.
Pricing: Free. You can fetch150 keyword ideas and 50 question ideas for any seed keyword you search for.
Premium Tools:
Some comparable premium keyword research tools to Surfer SEO are Ahrefs, Moz, and Semrush.
Content Brief Generator Tools
Creating content outlines is the most important aspect of the content creation process. It helps set the guidelines and expectations about the content piece you are about to generate. You must analyze competition, decide word counts, determine content headers, and create compelling titles in order for your audience to find them informative and interesting.
No wonder, it takes hours to generate content briefs manually.
Surfer SEO provides a free AI outline builder tool but there are some alternatives to it as well.
You can save a lot of time and effort if you use these free and paid Surfer SEO alternatives for creating perfect content briefs.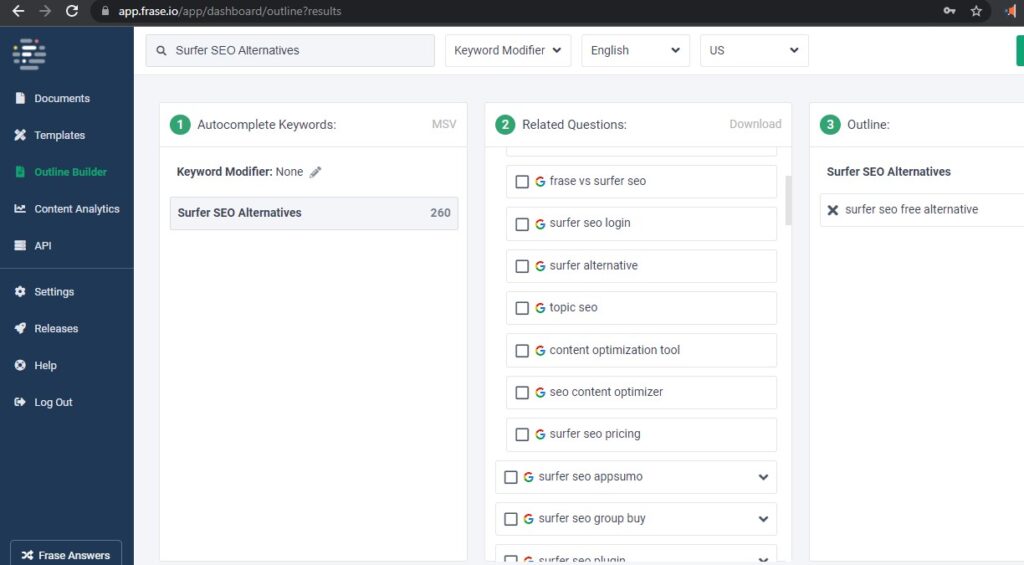 With Frase Outline Builder, you can create content briefs to match the search intent of your audience in no time. It helps you to quickly identify contextual keywords, content gaps, questions, headers, analyze SERPs and estimate word count.
Pricing: Frase's basic plan starts from $44.99/month. This covers all the content creation features not just the content outline.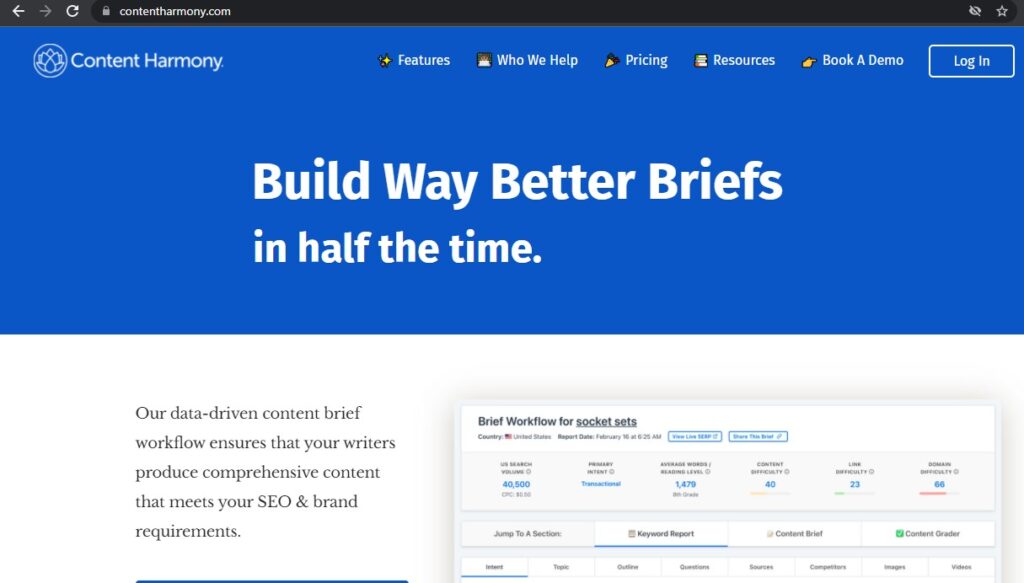 By leveraging Content Harmony, you will be able to produce compelling content using all the keyword recommendations as well as fulfilling SEO & brand requirements. Your content briefs are stored centrally in Content Harmony. You can use sharable links to share these briefs with your team in your preferred project collaboration app.
You can analyze your keyword report, generate a content brief and share it with your team or clients.
Pricing: The standard plan costs $99/month covering 12 content outlines per month.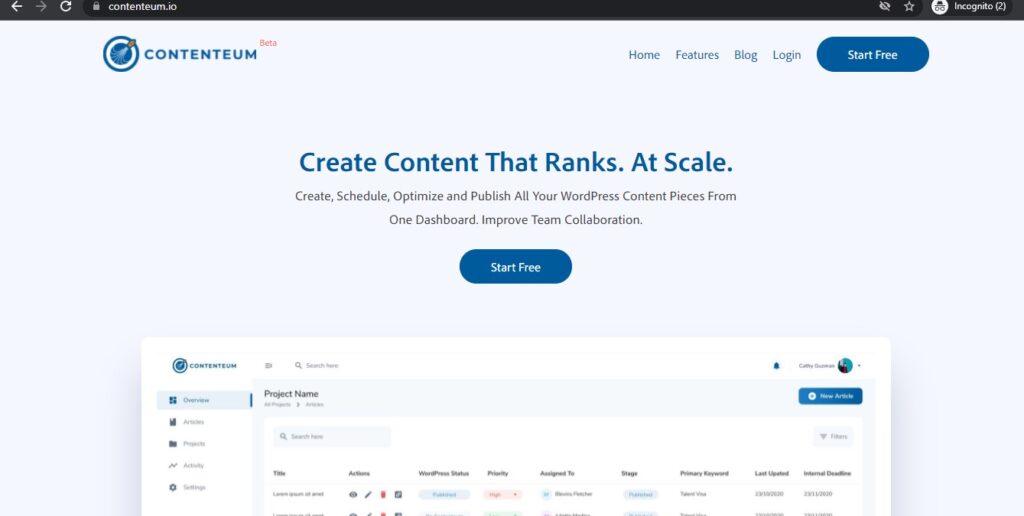 Contenteum provides a free tool to generate content briefs. Once you enter the target keyword and country, it provides a detailed report on what should the article cover. The information includes – required word count, headings, images, tables, questions, keyword variations, and topics to cover.
Pricing: Free. You can straightaway download the content brief document.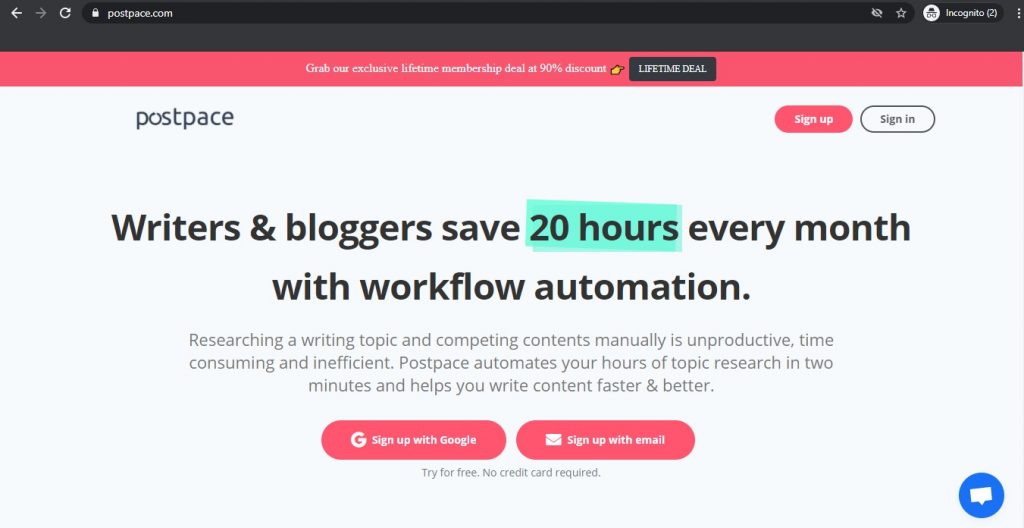 Postpace is another great content tool for generating content briefs. It has a clean interface and allows you to add prominent keywords and questions directly from the topic report that it generates automatically for your head keyword. You can also drag n drop the headlines, edit them or even add new ones. It also allows you to share the brief with others.
Pricing: Postpace's basic plan is $17/month which includes 20 content briefs.
Premium Tools:
MarketMuse is popular for its capability to generate content briefs with detailed structure and subheadings. Moreover, it suggests title variants, internal links with anchor texts, suitable external links, and reader profiles too.
Tools for Content Creation and Optimization
A number of AI tools have been developed recently that assist with content creation and optimization. As an alternative to Surfer SEO, we recommend the following tools that can help to create top-ranking content.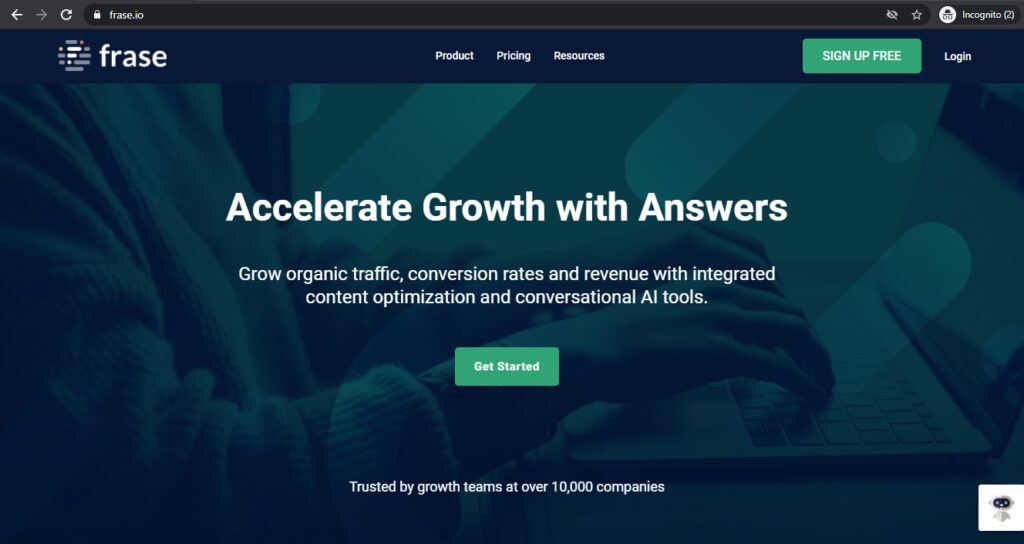 Using Frase AI, you can create high-quality SEO content in minutes instead of hours. With its built-in editor, it's easier than ever to create great content that will rank better in organic search results. Moreover, you can verify various SEO parameters in the Research Panel like topical relevance, content score while you write your article and see where it stands compared to top search results.
There are different content templates available so you can easily find one that suits your needs. If you want to add your own custom content, you can do that too.
Pricing: As stated above, the basic plan starts from $44.99/month for 1 user and for 30 document credits.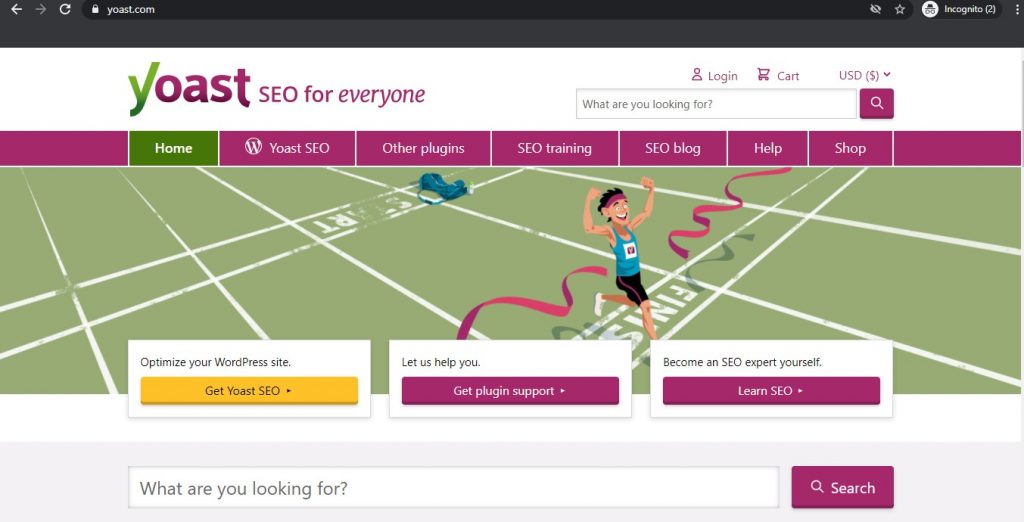 If you are looking for on-page optimization inside WordPress, Yoast SEO is the best plugin for that. It helps make your content more readable and SEO-friendly by checking various factors like keyword density, metadata, URL slug, links, images. Furthermore, it also fixes a lot of technical SEO issues that would otherwise affect your site.
Pricing: The free plan serves a basic purpose. But to get the most out of it, the plugin costs $89/per year.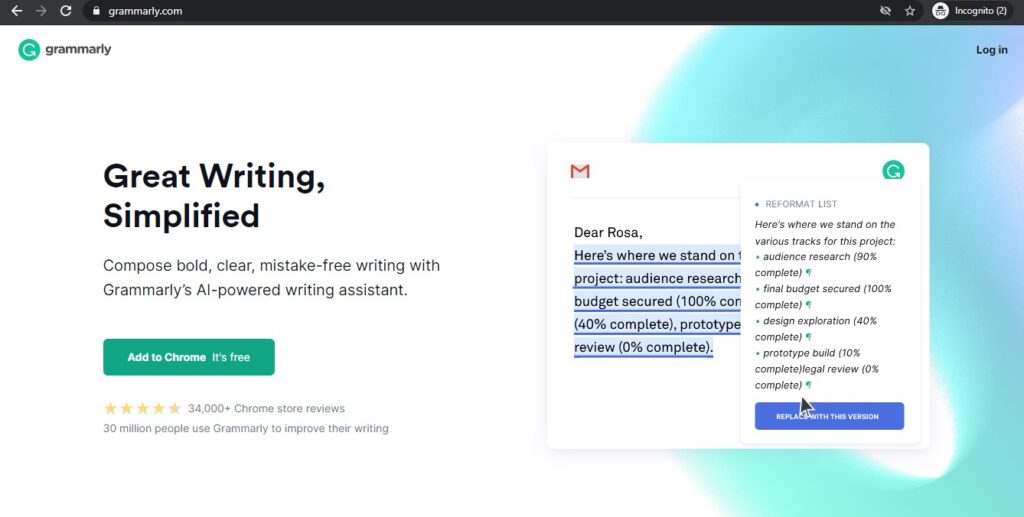 Grammarly is a popular spelling and grammar checker. It checks your writing against over 100 rules and offers suggestions to keep your content quality high. It also comes with a plagiarism scanner that detects if any part of your text was copied from other sources.
Pricing: The free plan provides basic suggestions. The paid plans provide style, tone, and clarity improvements and cost $12/month and above.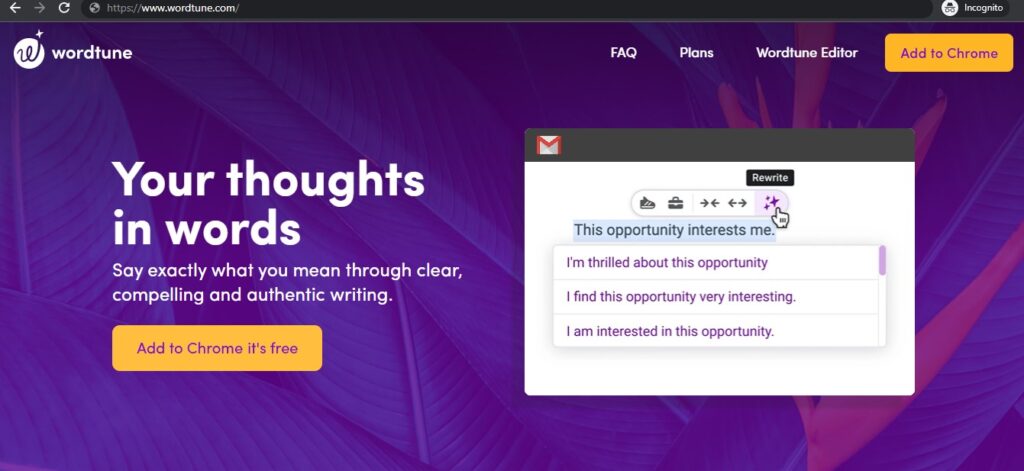 Wordtune is another secrete content optimization tool. It analyzes your sentences and rewrites, shortens, expands to improve them. You can also select the right tone of the sentence to match your audience. This saves time and effort. Once you install the extension, you can use it with a content editor of your choice like Google Docs.
Pricing: The free version is limited to 20 suggestions per day. To use its features fully, you need to upgrade to the premium plan at $9/month.
Check out our Wordtune review for more information.
Premium Tools:
Some of the most popular AI-powered content optimization tools are MarketMuse and Clearscope. Although they are expensive, they are ideal for businesses that need to produce a lot of content each month.
Tools for Performing SEO Audits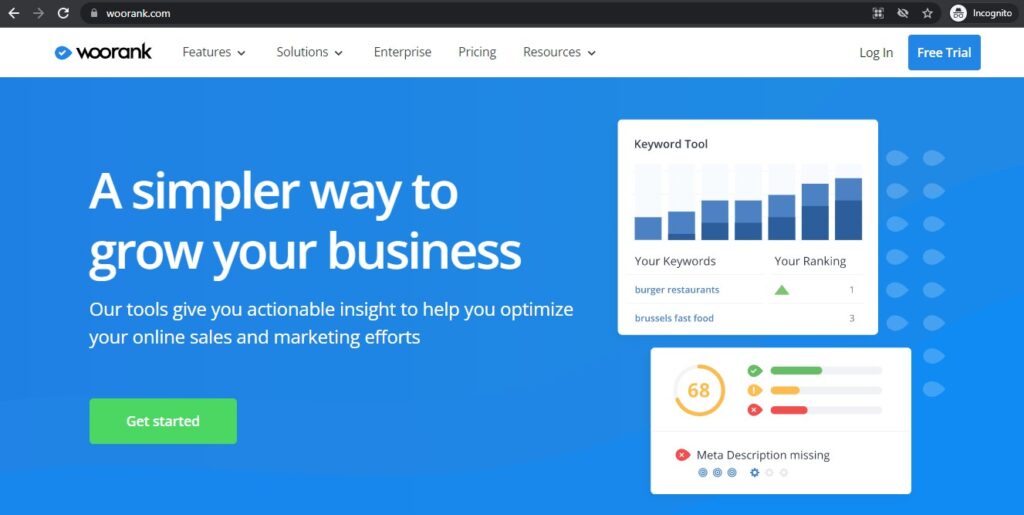 Woorank is a powerful SEO audit tool that gives you access to all the data related to your website's performance based on 70+ different on-page, technical, and off-page SEO elements. It further explains how its findings were made by providing technical details about the observations they make.
Pricing: The price starts with $79.99/month which allows tracking 1 website, 50 keywords, up to 2500 pages, and unlimited reports per month.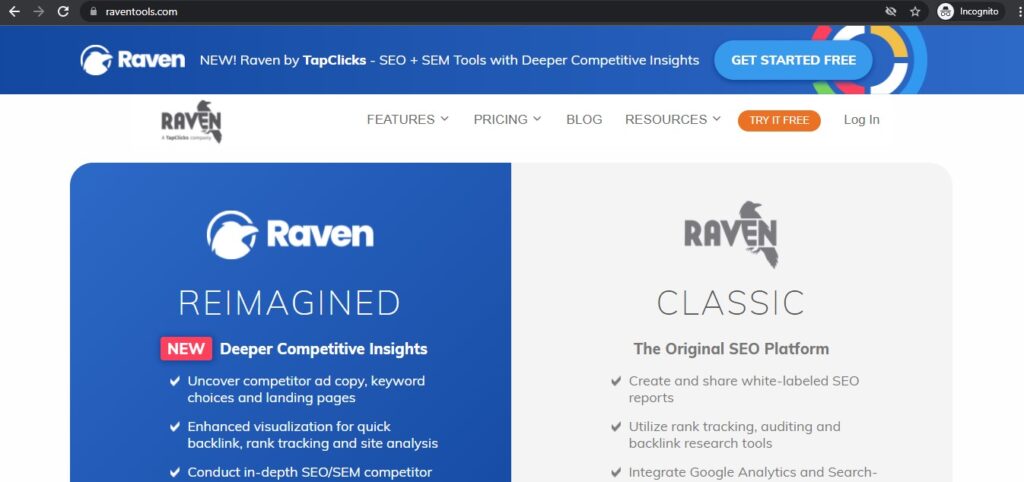 Raven Tools is an advanced search engine optimization tool that allows you to perform deep crawling (Depth from 1 – 10,000 pages). It detects any SEO issues and provides actionable, easy-to-follow suggestions for improved website performance. It lets you schedule the audits in advance so that the tool can alert you whenever it detects new problems or optimization opportunities.
Pricing: The plan starts from $39/month and ranges up to $399/month.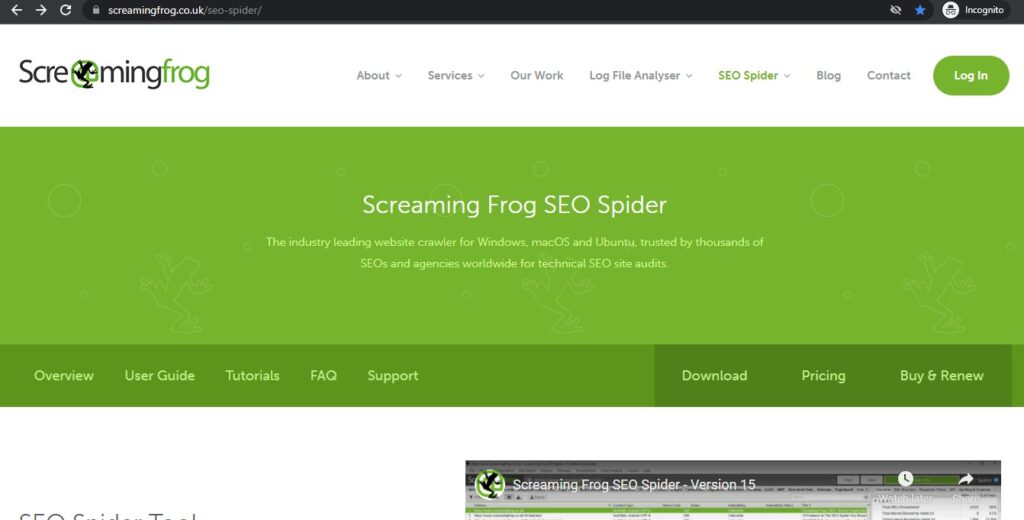 The Screaming Frog SEO Spider is a fast and advanced crawler that performs deep crawling and indexing. This popular SEO tool enables you to find broken links, review redirects, page titles, metadata, duplicate content, and much more. It also creates XML sitemap, integrates with Google Analytics, Search Console, and also with Page Speed Insights to provide deeper and accurate stats.
Pricing: The free version of Screaming Frog SEO Spider allows to crawl up to 500 URLs. The paid version with an annual plan of $149 has no limits on the URLs to crawl. Plus it also provides some additional features like saving crawls and configuring the spider options and advanced features.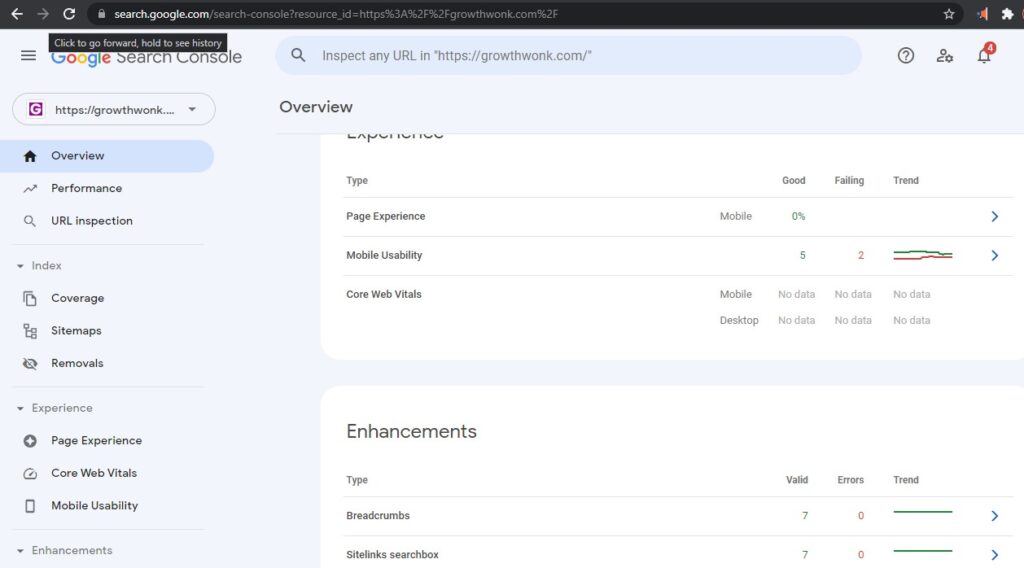 Search Console is Google's own search engine analytics tool. It provides detailed information about your site's performance, coverage, security issues, crawl status, sitemap status, canonical tags, mobile-friendliness, internal and external links, URL status codes, organic traffic, and search rankings.
Pricing: Google offers this free service to whoever owns a site.
Premium Tools:
If you need a one-click site audit and easy-to-understand reports, Ahrefs, Moz, and Semrush are the tools for you.
Conclusion
These apps are our best Surfer SEO alternatives that we have tried in-house. And many of them are available for free.
However, choose one or a combination of these that fulfill your needs and doesn't cost a fortune.
There are a number of premium tools that can replace Surfer SEO:
Content Planning / Keyword Research: Ahrefs, Moz, Semrush
Content Brief: MarketMuse
Content Creation / Optimization: MarketMuse, Clearscope
SEO Audit: Ahrefs, Moz, SEMRush
Spending money on premium tools, however, will save you hours of work and time switching from app to app.
We recommend you take a look at Surfer SEO too. It comes with a 30-day money-back guarantee.
If you have any further suggestions, please tell us in the comments section below.