How much is Wordtune? Is it worth paying for? What features does it offer apart from paraphrasing? How does it compare to other similar apps? Read this full Wordtune review below to get answers to these questions and more.
But, firstly, let's see what Wordtune is all about.
What is Wordtune?
Wordtune is a paraphrasing tool powered by advanced AI. It helps content writers rephrase ideas and sentences to produce quality content.
Wordtune suggests corrections and identifies errors. It ensures the developed content is engaging, compelling, and authentic.
This tool is a life-saver for non-native English writers. If you are someone with a difficulty with correct grammar and spelling, Wordtune is for you.
Apart from this, it also improves the tone, word choice, and flow of the content. Wordtune is suitable for content writers, and anyone wishing to produce content.
Which Features Does Wordtune Offer?
Wordtune is a fantastic writing tool for copy and content writing. It is an AI-infused writing tool that offers the following features:
1. Sentence Rewriter
This Wordtune feature is an AI-powered content rephrasing tool. It uses natural language processing, thesaurus, and a dictionary to develop quality content. This feature of Wordtune sets the right tone for the content. It also suggests compelling words and sentences making the writing qualitative. With it, writing an excellent article, or a landing page is easier than ever.
2. Shorten and Expand
Wordtune has a unique feature of amending sentences by making them shorter or longer without changing the sentence's meaning.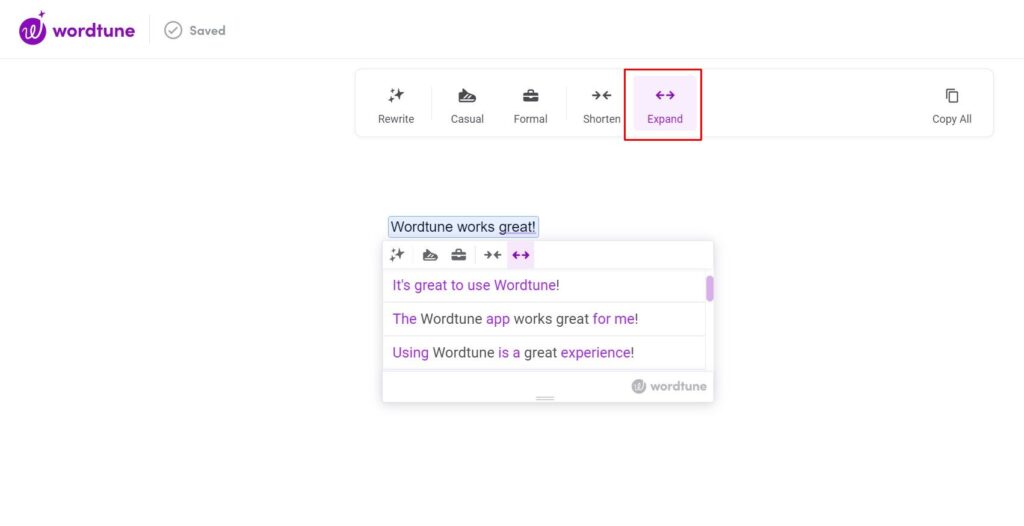 This feature skillfully cuts short or elaborates a particular sentence. This feature proves to be a game-changer for many content writers.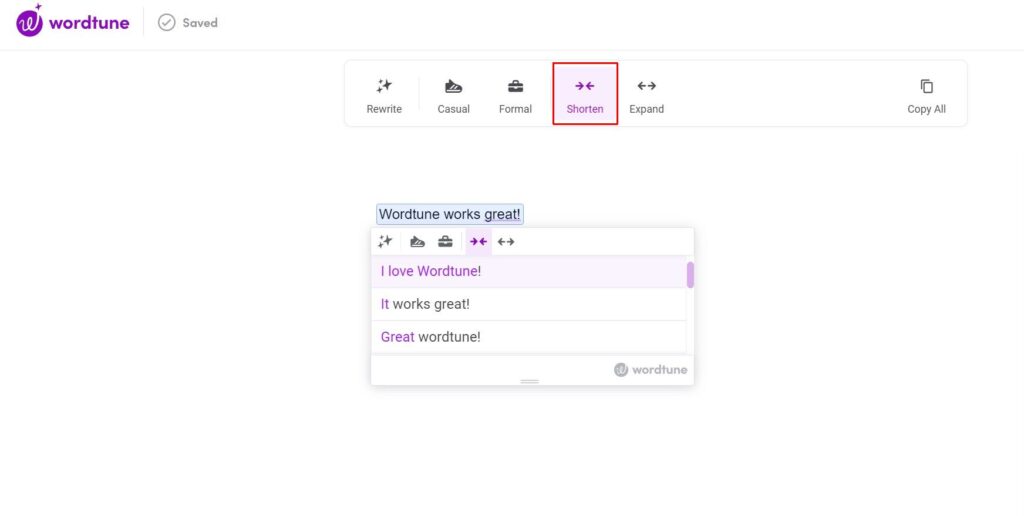 3. Grammer Check
Wordtune is a rewriting tool that helps correct grammatical errors. A professional content writer must consider using it, for its decent proofreading tool. With it, the article processing becomes easier. It completely eliminates grammatical and spelling mistakes and makes content perfect. It also enhances the sentence structure, hence making content qualitative.
4. Style Editor
This feature can make your content casual or formal depending on your need. It also offers multi-lingual support which helps give a style tweak to your sentences. There is also a tone selector and tone checker to help you set the right mood. It helps to produce natural-looking text with the highest impact on the reader's mind.
How to Set Up Wordtune
You can use the Wordtune editor online or through the Chrome extension. 
1. Wordtune Chrome Extension
You can use Wordtune as an extension to Google Chrome. You can rewrite and rephrase by adding the Wordtune chrome extension on any writing platform. Wordtune is one of the smoothest working tools on the cloud. It functions in all places including websites, Google documents, Gmail, Facebook, Twitter, etc.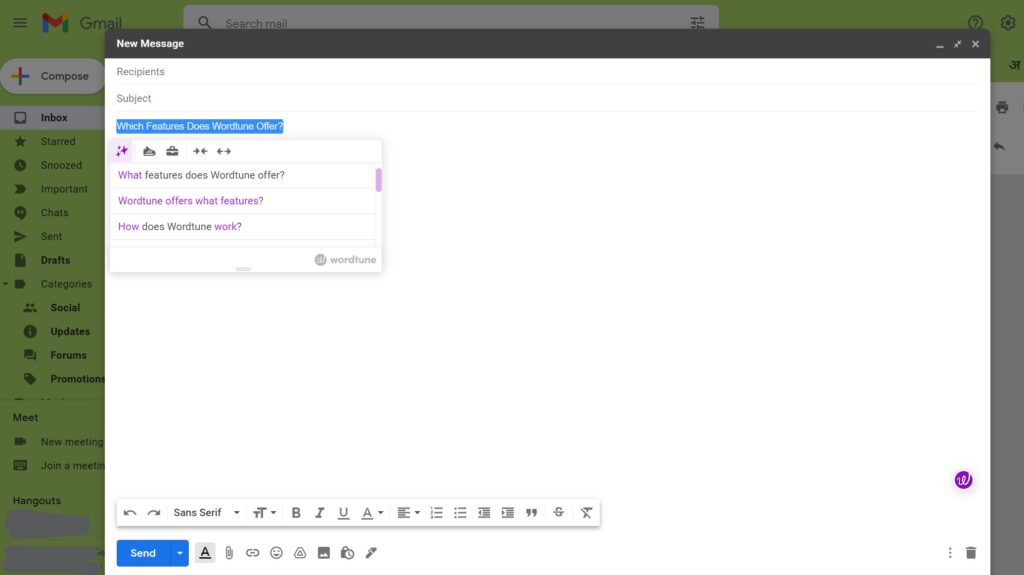 On setting up the Wordtune extension, you can select the text to edit and click the Wordtune icon for editing options. The editing options window can also be accessed by using the keyboard shortcut Ctrl+D.
2. Wordtune Online Editor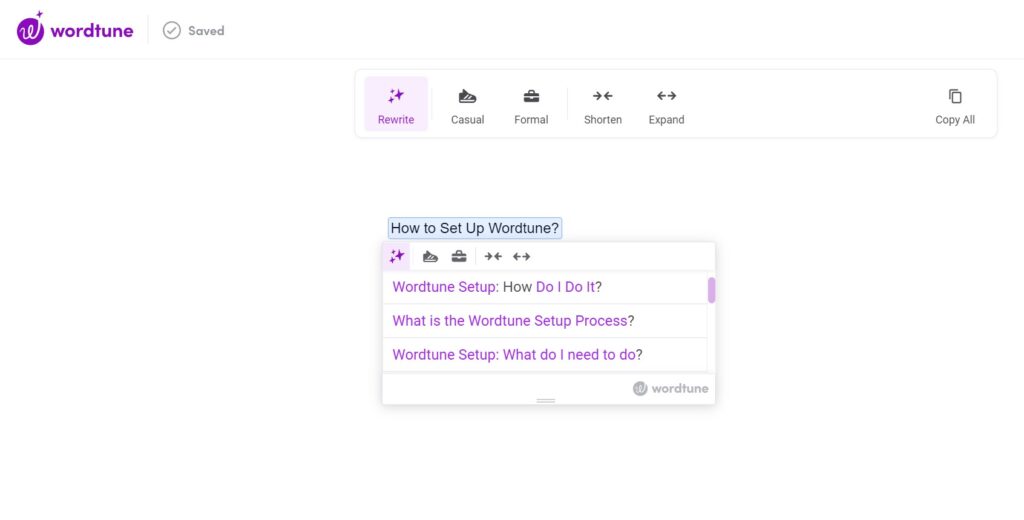 You can also choose to use the online Wordtune editor. For this, you need to sign up and become a Wordtune user. The free plan provides a limited number of edits per day. Edit, review, and rephrase your content by selecting the text and using the toolbar or the Ctrl+D shortcut key. You can either write fresh content or copy-paste a pre-written piece of content to edit further.
How Much Does Wordtune Cost?
Wordtune offers three pricing plans apart from its 7-day free trial as follows:
Free Plan: The Wordtune extension is free of cost tool with limited editing features. With the free plan, you can rewrite up to 10 sentences per day. But, with no access to changing tones, shortening, and expanding sentences.
Premium Plan: This plan costs $9.99/month ($119.88/year). It offers unlimited access to rewriting, tone changing, and shortening and expanding sentences. Wordtune also offers prioritized service support to its users along with the plan.
Premium for Teams: This pricing is customizable depending on the team size. You can get in touch with the Wordtune team for more details on the premium team plan. This plan offers similar features to the Premium plan. But, if you have a team, you can make billing for this plan together, rather than on an individual basis.
Wordtune Alternatives
In spite of all its bright side features, Wordtune does have a few drawbacks. Namely- manual editing of sentences and paragraphs, limited edits per day with a free plan & non-SEO content.
Due to these limitations, users with very specific requirements look for apps similar to Wordtune. Here are the five best alternatives for Wordtune.
1. QuillBot
Quillbot is a well-known paraphrasing tool. It also offers features like a grammar checker, summarizer, and citation generator. But, like Wordtune, QuillBot is suitable only if you need to develop content without SEO. This is the most chosen Wordtune alternative by users in the field of content writing. The reason is, that it offers more free features as compared to Wordtune. The free features also include tone setting and content styling.
2. Prepostseo
Unlike Wordtune and Quillbot, Prepostseo offers features to develop SEO content. It also has a plagiarism checker, AI-powered writing suggestions, and a proofreader. It offers 500+ searches per month for free users. This is the primary reason for its increasing popularity and a fierce Wordtune alternative.
3. Rephrase
Rephrase is an all-in-one rephrasing tool for writers. It offers article re-writing features, plagiarism checking, grammar checking, and text summarizing. For its wide range of extra features, it is one of the most popular tools among content writers. It also helps users with style guides for the rough draft of content.
4. Edit Pad
Edit pad is an advanced alternative to Wordtune. It offers a word & character counter, plagiarism & grammar checker, and download & sharing options. It also has a rich text converter, paraphrase & summarizer tools. The best part of Edit Pad is its speed and easy-to-use interface.
5. Frase
Frase is an alternative to choose if you are looking to develop SEO content. Along with sentence rewriting, it does AI analysis and research of content topics to produce the outline of an article. It has a grammar and spelling checker and a word counter. The keyword suggestions are a key feature that proves to be the best in Frase.
Conclusion:
This review is based on our experience with Wordtune and other paraphrasing tools so you can decide if it's the right tool for you.