For professionals in different areas of digital marketing, AI-powered writing tools are essential. Wordtune and Grammarly are some of the top names when it comes to professional writing tools. Are you thinking of purchasing one of them but need clarification?
This blog is a Wordtune Vs. Grammarly comparison. It guides you through different aspects of comparison, including features, purpose-based use, pricing, difficulty level, etc.
Understanding Wordtune
Wordtune, founded in 2018 by AI21 labs, is a rewriting tool. It helps its users to write straightforward, short, compelling, and plagiarism-free content. It is a tool that aims to reflect the user's ideas thoroughly in his/her writings. Wordtune is best known for paraphrasing and persuasive writing. Wordtune differs from Grammarly because it is not a grammar error detector. Instead, it is an excellent writing tool that holds the power to write more impressive sentences.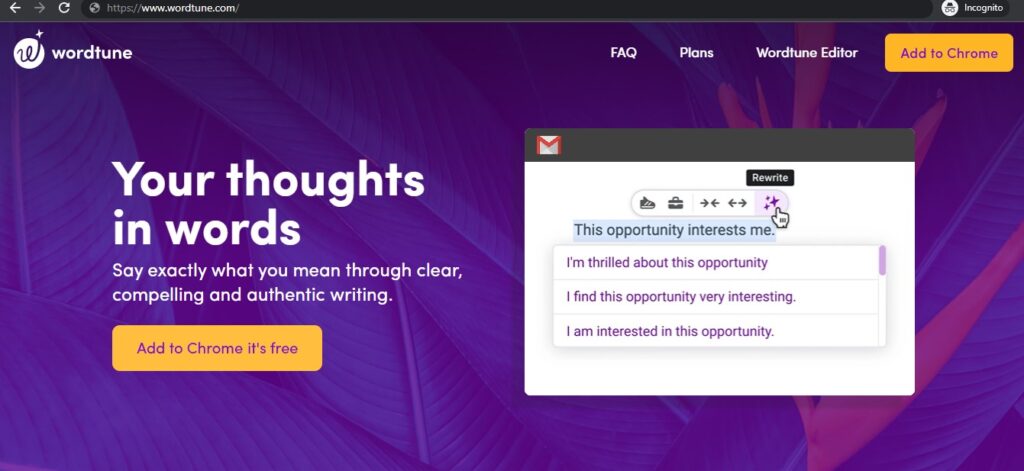 Who should use Wordtune?
Wordtune can prove to be a helping aid to anyone constantly dealing with creating writeups. It is not only for non-native English speakers but also for native people working in varied professions. It is more suited to people who wish to have a tool to write and rewrite better pieces of content each time. Here's a list of people who should consider using Wordtune.
1. Non-Native Speakers
If you are a foreigner in a job that demands fluent English, Wordtune is for you. It supports about seven foreign languages. It includes Hindi, Spanish, Korean, Mandarin, Arabic, Hebrew, and Russian. Wordtune can translate sentences from any of these languages and construct fluent sentences for you.
2. Content Marketers
Content Marketers' primary job is to develop content that's easy to understand. The tool is a savior if you are marketing complex or technical products. Because it is often difficult to frame sentences for the general audience. Wordtune wipes off the technical jargon and paves the way for simpler and straightforward sentences.
3. Students
Whether an undergraduate or a Ph.D. student, you know how much readability matters in your assignments and theses. Wordtune instantly spots the complex sentences in your writing and changes them to easier ones. It also assists you in expanding or shortening the sentences.
4. Website Publishers
Websites demand a never-ending flow of content. For web pages, blogs, landing pages, and so much more. Using Wordtune, you can check the grammar, spelling, tone, quality, readability, and plagiarism. In short, Wordtune makes sure your content is web-ready in all ways. 
What can you do with Wordtune?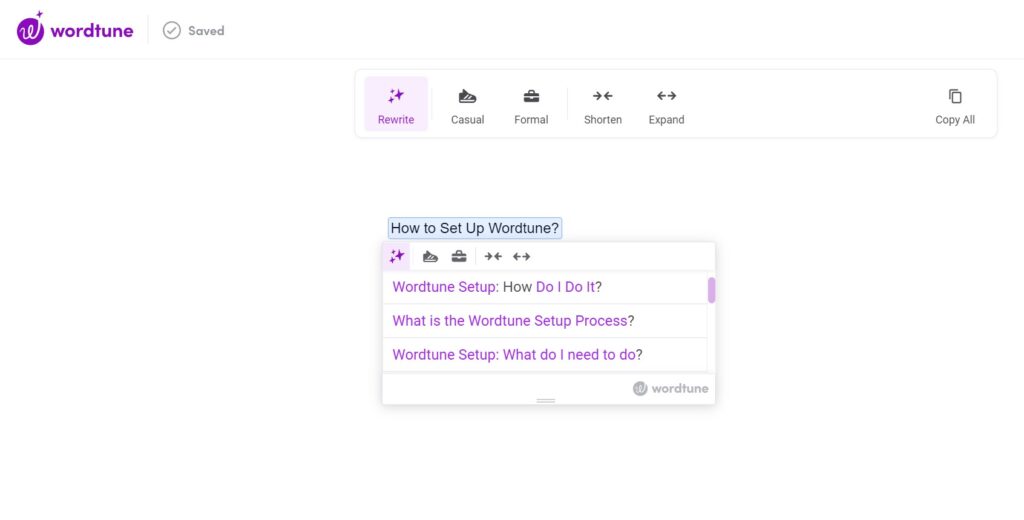 Rewriting and Rephrasing: With Wordtune, you can identify grammatical and contextual mistakes and correct them. The tool helps you rephrase and rewrite words, sentences, and paragraphs.
Tone changing: Wordtune allows you to set an expected tonal quality of your writing. You can set it to casual or formal. Accordingly, it gives suggestions for deflecting sentences. 
Shorten and Expand: Wordtune is a pro when you wish to attain a specific word count for your write-up. With it, you can shorten or expand paragraphs without losing the gist of it. 
Integration: You can use Wordtune in different ways. You can copy and paste your text into the tool's online editor. You can even install an app on your desktop or add an extension to your browser.
Understanding Grammarly
Grammarly founded back in 2009, is a popular grammar tool. It is extensively used by content creators, copywriters, and marketers. However, interestingly, it is used by people in all areas of work to improve their professional writing skills.
Grammarly has a bunch of features to help users develop error-free content. It is useful for comprehensive writing thanks to its grammar, punctuation, and style features. It is also famous for its features like grammatical mistakes highlighter, sentence optimizer, vocabulary suggestions, and plagiarism checker.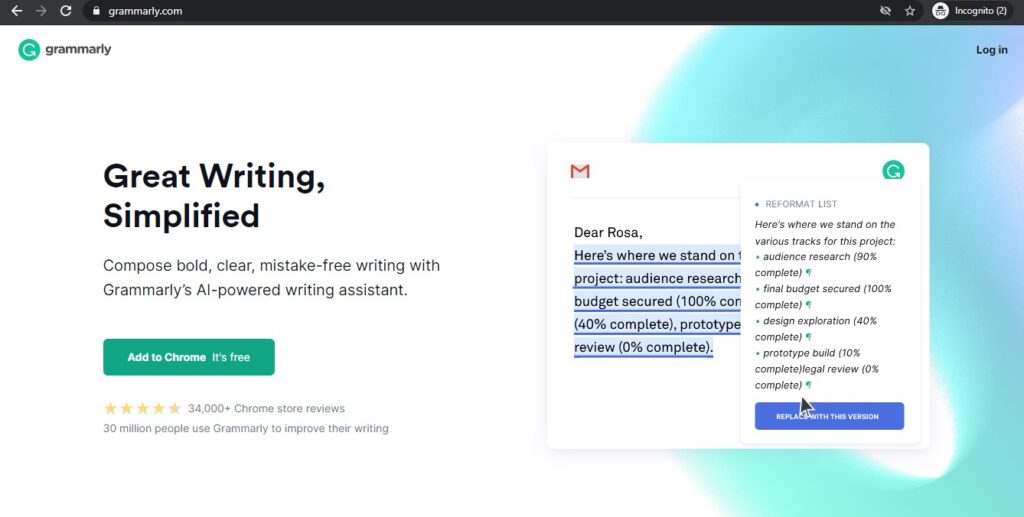 Who should use Grammarly?
1. Business Owners
Grammarly is a tool for business people working in any profession. As a business person, your day might demand short and prolonged content. From social posts to emails, to blogs to presentations. Using Grammarly, you can be assured that it's all falling in the right place.
2. Content Writers And Bloggers
Fresher or experienced, grammar tricks us all. You must write a few hundred sentences weekly as a content writer or blogger. Since your primary job includes developing content for different purposes, industries, and platforms, a grammar checker becomes essential. Grammarly makes the proofreading and editing process much simpler, smarter, and quicker.
3. Authors
Like professional writers, an author's job demands the flawless construction of countless sentences. Grammarly helps authors to write creative, simple, yet engaging content. It also assists you in finding better words as and when needed to make your writing even more enjoyable.
What can you do with Grammarly?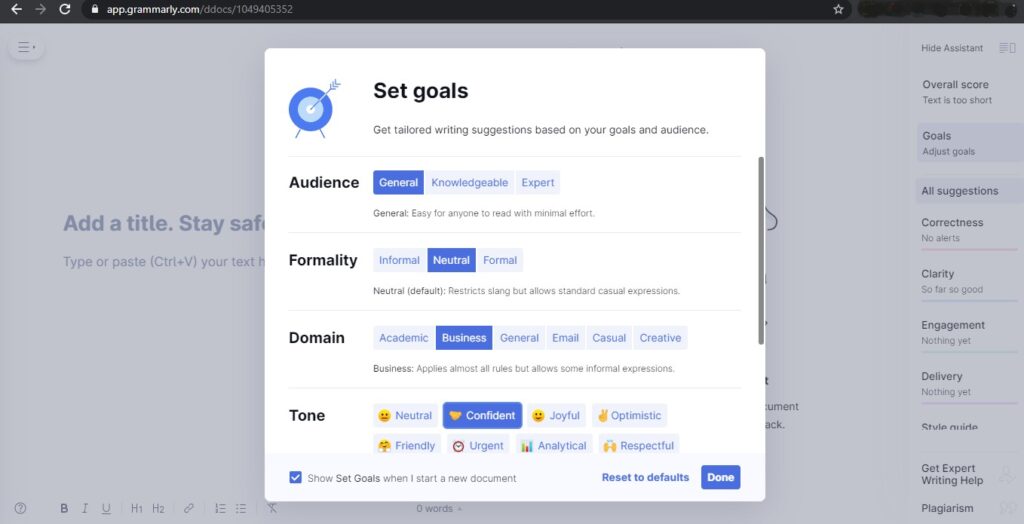 Grammar Check: Grammarly spots common grammatical errors, passive voices, prepositions, articles, punctuation errors, etc. It also offers suitable suggestions for amendments.
Spelling Check & Vocabulary: Grammarly detects the slightest spelling mistakes in your writing. It also has a personal dictionary that suggests the right words. Moreover, you can also get synonyms and antonyms of any particular word in your content.
Plagiarism Checker: Grammarly's paid plan includes a plagiarism checker. It identifies if your content is authentic end-to-end.
Weekly Reports: Grammarly presents you with progress reports every week. It considers three main factors- Productivity, mastery, and vocabulary.
Integration: Grammarly integrates with almost everything. You can use its extension on the browser. You can have its downloadable app on desktop and mobile devices. It supports Google Docs, Chrome, Firefox, Edge, and Safari.
Using Grammarly And Wordtune simultaneously
It is entirely possible to use both software simultaneously. You can use the best of both for your benefit as a content marketer or a writer. You can opt to use Grammarly free for grammar and spelling checks. Further, the free version of Wordtune can help you rephrase about ten sentences a day.
However, buying them both will only be a great idea if you consider purchasing a premium plan. But you can opt for Grammarly premium since it helps with grammar and editing. But, if you need much more help with rephrasing rather than corrections, you must go for the Wordtune premium.
Which one is worth your money?
Wordtune and Grammarly both have premium versions with multiple advanced features. Purchasing an annual plan saves you a lot of money. Knowing the features, differences, and peculiarities, let's understand both pricing:
Wordtune Pricing 2023
Like any other online tool, Wordtune has a free version too. However, it restricts the usage of almost all the essential features. Also, the free version of Wordtune allows the rephrasing of ten sentences only.
Wordtune premium yearly plan costs you around $119.88/year. The Wordtune team plan can be bought by contacting its sales team. It is to be noted that the team plan and individual premium plan offer the same features.
Grammarly Pricing 2023
Grammarly, the experienced player in the market, offers many more free features than Wordtune. It has essential elements of grammar correctness in its free version. It includes punctuation checking, tone detector, preferred language selection, writing suggestions, etc.
Grammarly has two premium plans. Individual and Business. There are annual, quarterly, and monthly plans available at $144, $60, and $30, respectively. Usually, there are offers and discounts on yearly plans for various occasions throughout the year. The business plans start from $15 per month per user. The main features of Grammarly premium include Plagiarism detection and concise writing for maximum reader engagement.
Grammarly vs Wordtune: The Final Word
Grammarly is a very affordable tool considering the versatility of its features. You must consider purchasing Grammarly premium if you are a content writer, marketer, business owner, or professional who works in any other field and needs to write different content pieces regularly. In addition, Grammarly is for those who need assistance checking grammar, spelling, and language betterment.
However, if you want to write creative, correct, and presentable sentences, Wordtune is probably for you. But, Wordtune needs to catch up on grammar and spelling checks yet. Hence, it is not recommended for writers and digital marketers.
It's always a good idea, however, to use the features of both tools. For example, Wordtune offers advanced language AI to perfect your writing, while Grammarly focuses on grammar and spell check.