Content marketing is definitely an important part of any successful business plan. Choosing the content marketing type depends on your target audience and business type.
Here are 12 types of content marketing that marketers need to study, to succeed in their business.
12 Essential Types of Content Marketing
1. Blog Articles
Blog posts are one of the most popular forms of content writing. Blogs offer valuable content about your brand and products/services on search engines. An effective marketing strategy for blog articles can be to solve people's problems. A blog post is the most cost-effective method of content marketing. This long-form content helps your business in several ways. It improves SEO, lead generation, sales, and brand penetration.
Tips to build effective content for blogs:
Pre-define content marketing strategy
Write SEO-optimized content
Focus on solving problems
Keep the flow of your blog effective
Build relevant and audience-targeted content
For example, HubSpot. It is one of the top-ranking blogs in the content marketing niche. The blog provides actionable tips to solve people's problems related to marketing.

2. Infographics
Infographics is a piece of content presented in an appealing way. It may include graphs, pie charts, pictures etc. along with less or no words. The objects talk for themselves giving a quick gist to the audience. Infographics are an effective form of content marketing to present data and statistics. They are easy to create requiring less cost.
Tips to create appealing infographics for your audience:
Put easy-to-understand terms while presenting data
Avoid clutter
Present answers that your audience is looking for
Stick to the niche
Research and bench-mark the trending infographics of your niche
Let the vectors, design, colour palette, and fonts stand out!
Avoid controversies
For example, the following infographic by IvyPanda. It talks about how one can enjoy studying. Relevant vectors, and appealing colors, for effective presentation of content, make it readable and hence makes viewers want to explore it further.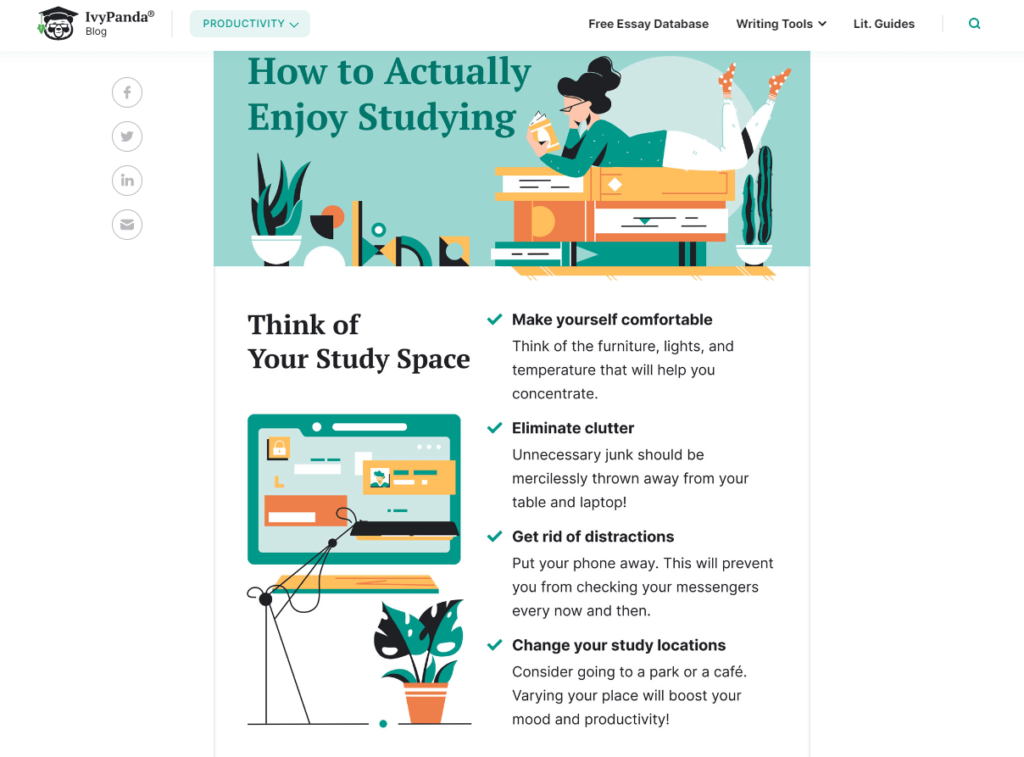 3. Podcasts
Podcasts have proved to be a popular content type in the last few years. They are audio content that is easy to access and offer flexibility to users and gain a broader audience on many platforms in no time. A podcast is a platform to advertise your core business, with products and services. The cost to produce podcasts is low compared to the reach it gains for your business.
Tips to produce quality content for podcasts:
Master the art of story-telling
Make your podcast interactive by asking questions
Conduct expert talks
Research your target audience
Make sure you offer informational content on one topic at a time
Here's an example of one of the successful podcasts on the internet. "Stuff You Should Know" is a podcast that educates its users on various topics. The headlines of each podcast trigger human curiosity. Hence, the podcast attracts a massive audience.

4. Social Media
Social media is one of the most popular types of content marketing today. Individuals and successful brands choose it as a platform for marketing activities. Social media marketing is free and also the most effective form of content marketing. Irrespective of your niche and product, high-quality content can give you far-reaching success. You can choose a social media platform, depending on what works best for your business. You can post visual, and textual content on social media platforms to gain a larger audience.
Tips to produce exclusive content for social media:
Stay creative and consistent
Plan creative campaigns around your products and services
Try hosting contests for your followers
Tag influencers
Produce qualitative and interactive content only
Do Instagram and Facebook live
The best example of successful social media could be none other than your own Zomato! Zomato's marketing team has populated the internet with its top-notch marketing. They have made a great leap in sales with the help of hook lines and by developing a strong bond with their audience.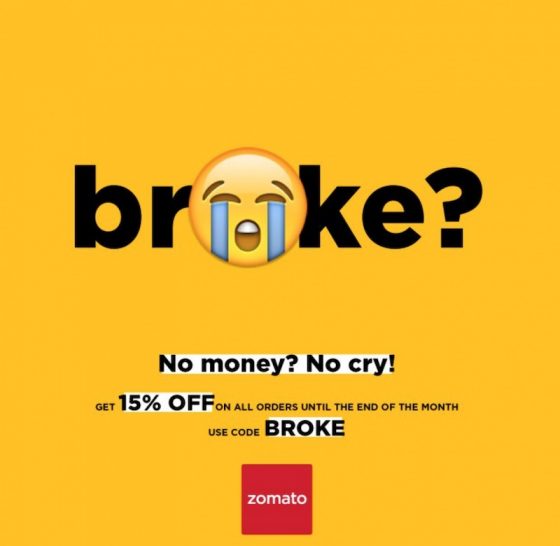 5. Product videos
Product videos are another effective type of content. They talk about the features and other details of your products. But the modern-day product videos are beyond that. A successful product video must highlight a problem with a solution. It must also include elements of user experience and business values. Such video content can bring fortunes to a newbie or a business that hasn't done much in a considerable time!
Tips to produce product videos of high quality:
Think out-of-the-box
The visuals must that couple with narration
Make the content realistic, relatable and authentic
Make it not too long and not too short
Don't sell the product alone, focus on solving people's problems
Keep the tone empathetic throughout the video
An example of a successful product video could be the one by Google to market Google Translate. The video is about google translate launching its feature of "tap to translate". The visuals and narration go hand-in-hand. Together, they provide a perfect guide to its users to use the product. The video is empathetic and discusses the challenges in its audience's life. Further, it also provides the needful solution to the viewers.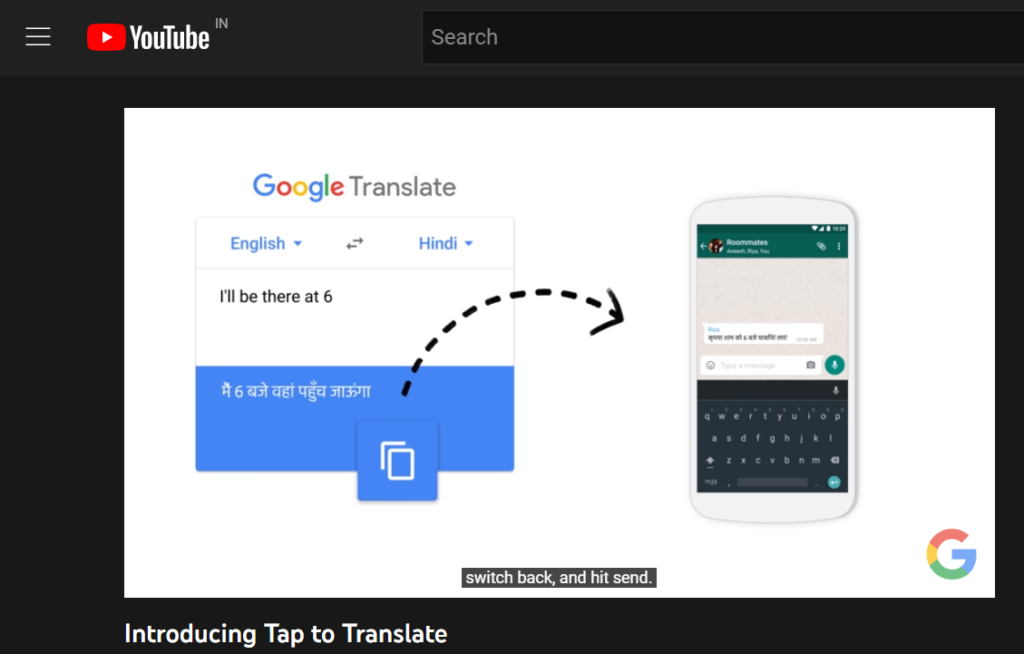 6. FAQs & Help Center
FAQs are growing popular with every passing day. It is precise, to-the-point content and offers direct solutions to the audience's problems. Most people on the internet, type questions in the search bar rather than statements. That is exactly what you must target while building FAQs and Help Center content.
Tips to improve your Help Centre blog post:
Research and put in place the long-tail keywords
Focus on providing pinpointed and direct answers to people's questions.
Try providing more than one answer to a single question
Don't hesitate to touch the competitive topics
Bifurcate the questions according to their niches
An example of a successful FAQ blog page is "Wikihow". It addresses question topics from various niches and provides practical solutions to problems. It uses infographics, images, and backlinks to help its audience find a solution.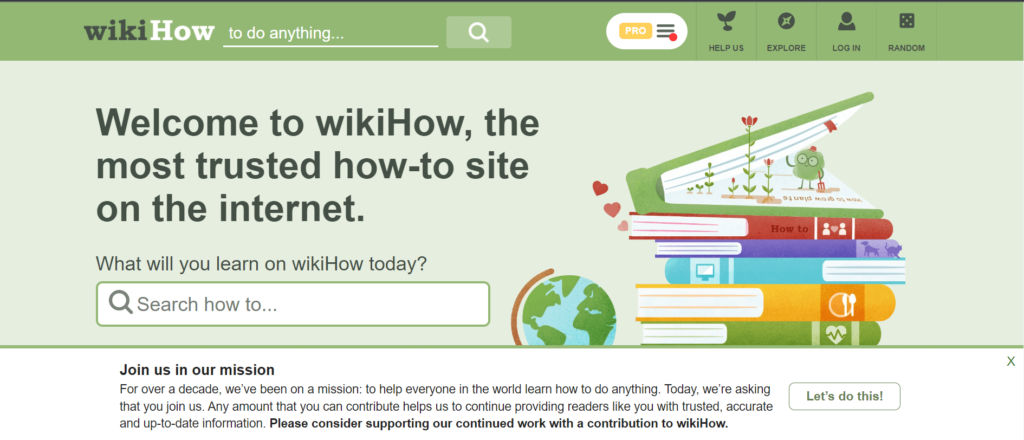 7. Case Studies
No prospective customer wishes to become the error of your trial. Your audience loves to learn from the experiences of your present-day customers. Effective case studies are those that unfold as stories leading to a happy ending. A successful case study can generate leads and makes sales in one go!
Tips to make Case Studies effective:
Include data and statistics as proofs
If you are selling an app or software, parameters-based analytics should help
Give a storyline but don't make it sound like fiction. Include screenshots/videos of customer statements and feedback.
Avoid selling
Guide user toward taking next action
A great example could be a case study about the collaboration of Grayscale & Upwork. The case study is precise, with a very less word count. It talks about the problem, solution and how the collaboration was worth it! It takes the user on a journey that leads to CTA.

8. Testimonials
Also known as customer reviews. It is one of the best types of content marketing. It is a form of user-generated content. Testimonials give a crystal clear reason to your customers on choosing you.
Tips to create quality content for testimonials:
Define the outline of your story/experience
Make it sound realistic and practical
Make sure the length is enough and also not too long
Use names of customers, with prior authorization
Ask your regular customers to develop a good testimonial for you.
On Semrush website, there is a testimonial page in which businesses describe how Semrush helped them to skyrocket their marketing. Whats more? Semrush also has mentioned an email in case anyone wants to share their story. There is a filter where you can select and view your preferred testimonials by client type, industry, and company size.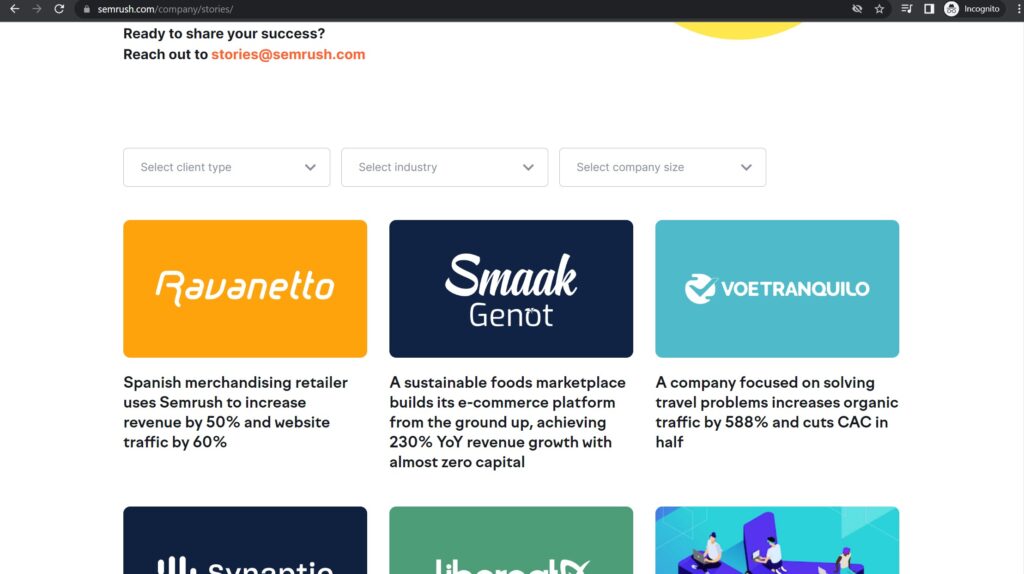 9. eBooks
Ebooks are long-form, digitally produced informative pieces of content. For a marketer like you, an eBook is where you can choose to be a giver to your audience. A place to say 'no' to ads and provide information, and knowledge in the area of your expertise. They are downloadable and can be used offline.
Tips to write good eBooks:
Stick to your niche
Give a short overview of the book content
Make it as interactive as possible
Make it appealing and easy-to-understand
Keep your approach toward a topic 'inch-wide mile deep'
Trigger a micro-action around your product/service
A good example is an eBook by Hubspot. Named Digital Marketing for Small Business, the book is available for free. The cover page of the ebook provides highlights of the content within. It follows a template that is appealing. It has actionable steps on various headings that users can use on the spot.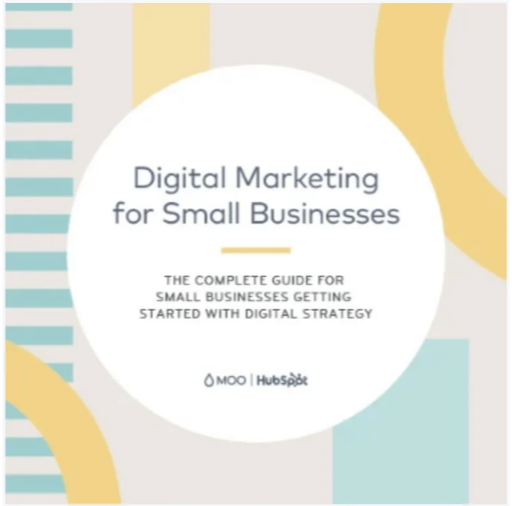 10. Templates
Content marketing is about providing valuable resources to make the audience's life easier. Templates are one such tool that you can provide to your customers. By doing so, you can save them some time, resources, cost, and energy. Moreover, you can use templates to build your email lists. This makes templates one of the most important and engaging types of content marketing.
Tips to create effective templates:
Think from the user's point of view
Provide templates or slide decks in your niche for various purposes.
Generate interactive templates for social posts
Provide work templates for unattended areas of marketing. Example: email marketing, cold calling, etc.
Here's an example of effective templates by Hubspot. They have provided templates to solve people's problems in various areas of marketing.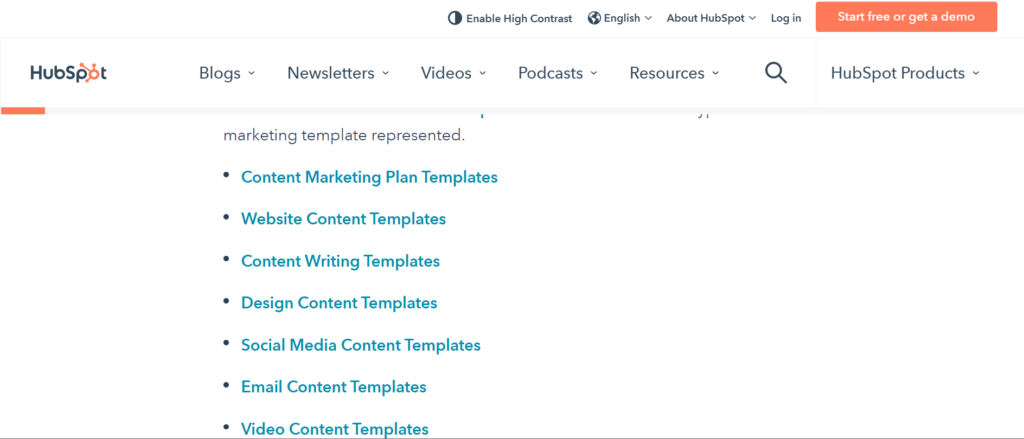 11. Whitepapers
Whitepapers are another long-form content like eBooks. But, white papers are more detail-oriented and present statistics and data more often. White papers are well-researched documents of a particular topic or subject.
Tips to build high-quality content for whitepapers:
Present the data in an appealing way
Do in-depth research
Put extra efforts into designing the template and outline of the content
Include as much visual content as possible
Content Marketing Institute has an amazing white paper library. Important to note here is that they have collected all these sponsored resources and listed them on their page. It drives the audience to read the content as well as sends traffic to their partner websites.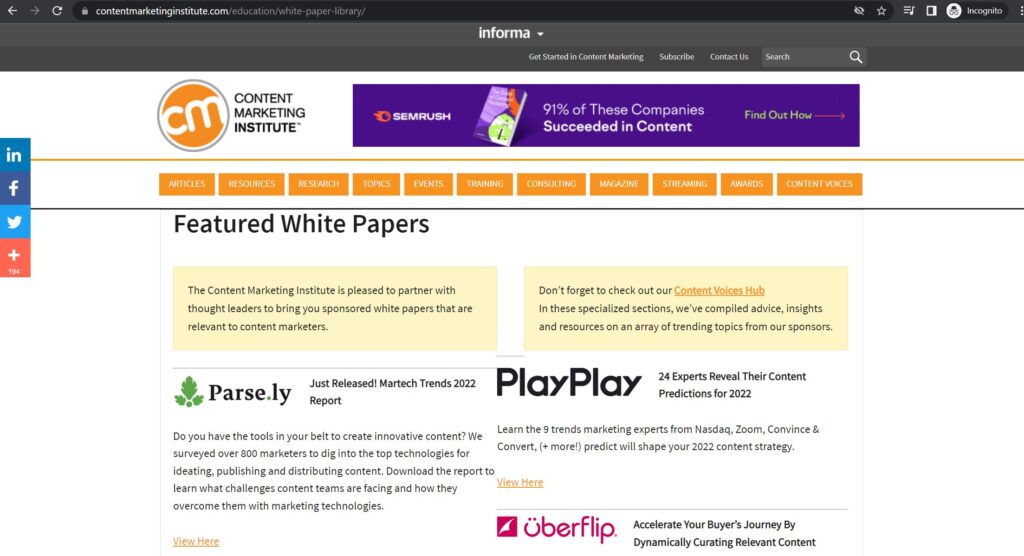 12. Newsletters and Email Lists
Email Marketing is one of the most effective types of content marketing. Emails with newsletters create a stronger bond with your users. Newsletters reach your audience with prior permission from them. Because the niche is of mutual interest for you and your audience, there can be higher engagement.
Tips for creating effective newsletters:
Target to build next-level engagement through your content
Experiment with story-telling
Try to build a connection with the user's mindset
Stick to your niche
Focus on decency in design and use of words
Navigate your users toward the CTA
One of the best examples of a newsletter could be one by The Daily Upside. The newsletter talks about engaging content and stories of the business world. It showcases a selection of the best financial news.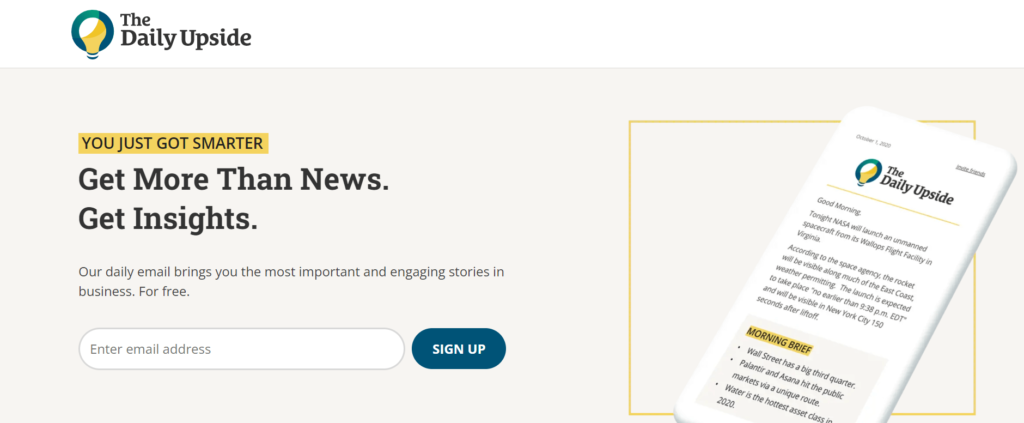 Conclusion
It is necessary to choose the content type that appeals to your mindset. Because you can produce content on a regular basis only if you believe in the system of a particular platform.
So which type of content marketing did you choose for your business?