Are you wondering how Raven SEO can help you? The following is a complete review of Ravel SEO tools and some of the best alternatives.
Raven provides a number of SEO tools that can be used by marketing experts to carry out a variety of SEO tasks such as keyword research, rank tracking, website audits, competitor monitoring, and many others. As we move through this article, we'll take a closer look at each tool.
Raven is a one-stop solution for SEO agencies and freelancers and website owners. While many alternatives have emerged over the years, Raven has proven to be more expensive and less feature-rich than most of those.
As we move forward, let us take a look at an overview of Raven SEO, then explore each tool in more detail, and then take a look at some Raven SEO alternatives in the end.
What is Raven SEO?
Raven Tools provides complete SEO and marketing reporting tools as part of its cloud-based digital marketing platform. From keyword research and competitor analysis to rank tracking, it can do it all.
Raven Tools
Raven is a place for SEO professionals. Because it offers all high-performing SEO tools in one place. Let's dive in and explore the SEO tools that Raven offers:
1. Site Audit
Raven's site auditor analyses your site by conducting audits based on 17 metrics. It includes visibility issues, content issues, links, semantics, page speed, crawl comparison, and so on. 
The Raven website audit generates a 100-point web health score. It highlights the severity of issues on every page and also offers a checklist to fix them. You can schedule these audits. Site audits can be conducted weekly or monthly. Including desktops, mobile devices, and tablets, this site audit is compatible with all types of devices.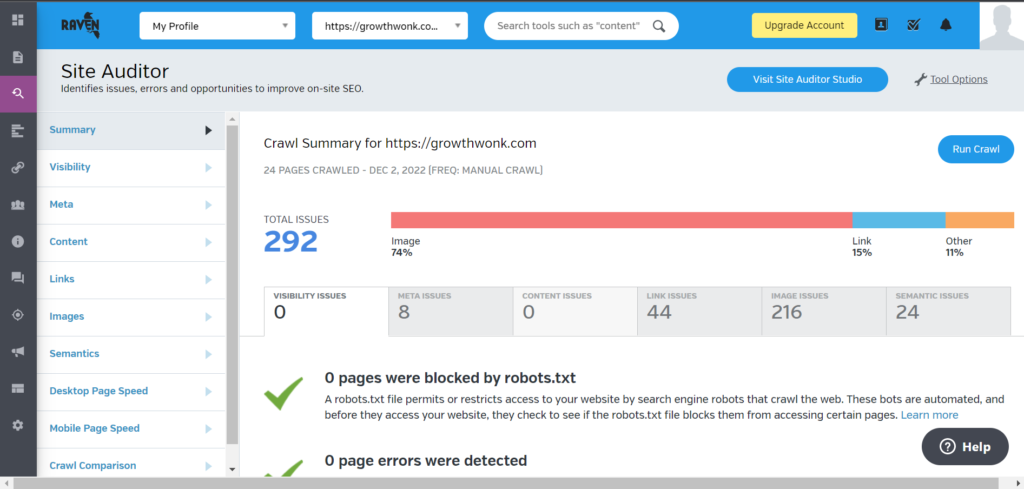 2. Keyword and Competitor Research
Raven's keyword researcher fetches ad data, local and global search volume, and competitor data for a chosen keyword. The tool can be integrated with Google Keyword planner and Google Search Console. With it, it also manages to display the average rank data for a search phrase. The tool also has a feature to document keywords that are important for link-building and other marketing campaigns. Being an all-in-one SEO tool, it is also possible to shift keywords between different Raven tools.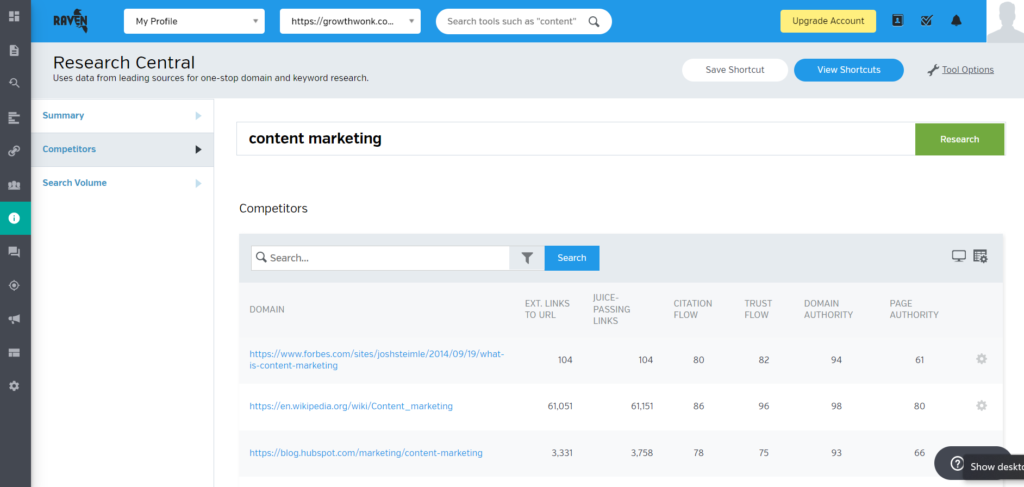 3. Backlink Analysis and Link Spy Tool
This tool lets you to explore the backlinks of any domain. By doing so, you can easily research your competitor's SEO tricks, keyword frequency, etc. It offers an analysis of the factors leading to your competitor's ranking. It also identifies the toxic links, that you must consider avoiding including on your site. Raven's backlink analysis tool reveals up to 50000 backlinks for a particular URL.
By identifying powerful backlinks via the tool you can add them to Raven's link management tool. You can then carry out your link-building campaigns even more effortlessly.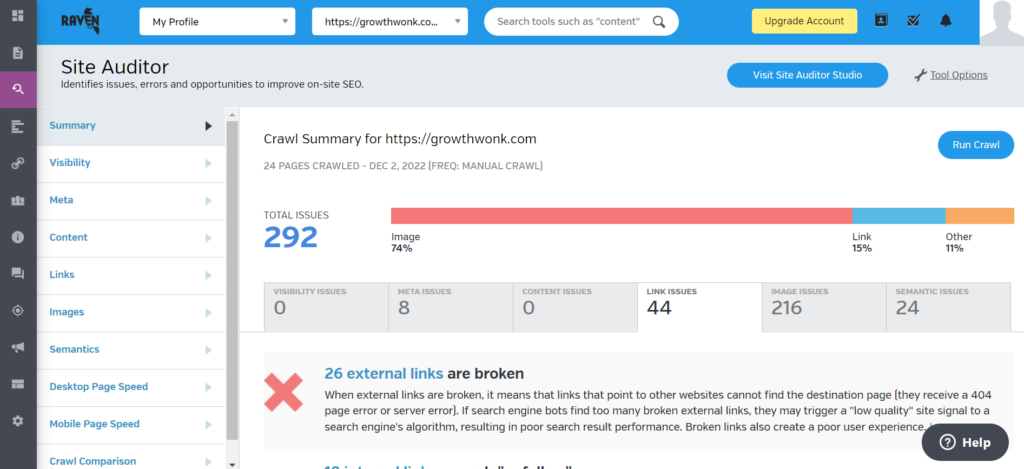 4. Rank Tracking
With Raven Tool's Rank Tracker, you can control how frequently you monitor your ranking changes in the SERPs. The pricing is based on a single check of a keyword on a single device and on a single search engine.
Raven's Rank Tracking tool has a starting yearly package that includes 15,000 rank position checks. Raven's rank tracker keeps a good record of your site's local SEO by tracking the same keyword customized for distinct zip codes.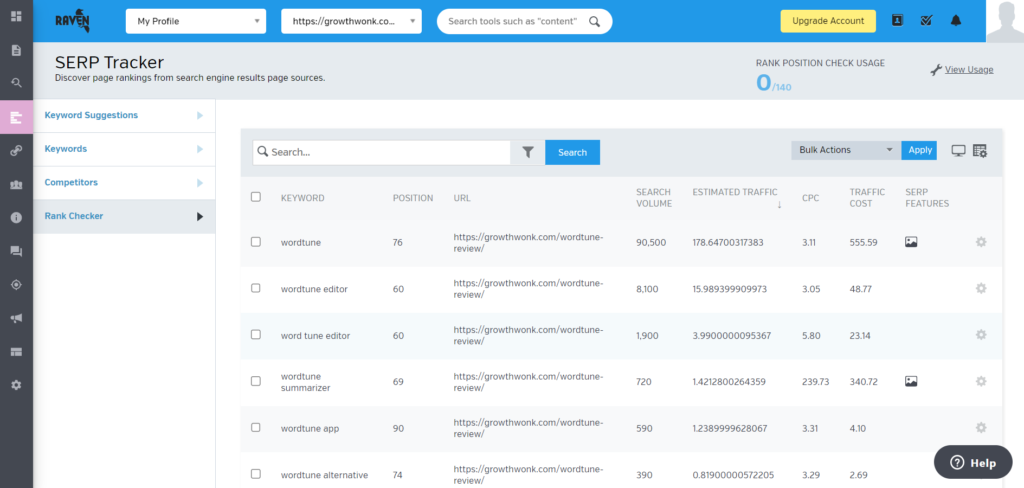 5. SEO data
With the ability to integrate with Google analytics, search console, and Moz, Raven stores historical data. This tool identifies important SEO data points and presents you the insights.
You can easily track your web traffic, conversions, and other metrics. Raven proves to be a one-stop place for all the important data from not only Google analytics and search console but also from Adwords, Bing webmaster tool, and Google keyword planner.
6. Report Generation
Raven tracks PPC ads, social media channels, email marketing, calls, and content that is linked to your website. You can easily view all PPC ads along with each of their performances on SERPs.
You can track the performance through line charts, and KPIs in comparison to the organic data points. The Raven tool also helps you schedule social media posts, manage engagement metrics, and pull out its performance analytics. It also allows users to post on WordPress platforms through its content marketing dashboard. Raven, through its SEO analysis also optimizes your content making it a perfect fit for the top SERPs.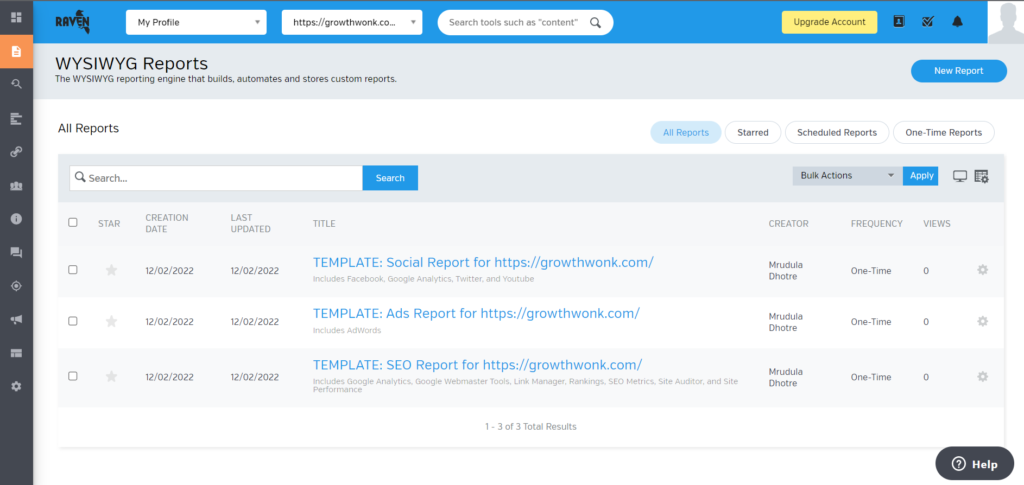 Raven Tools Pricing
On signing up as a new user, Raven offers a 7-day free trial for all its tools. Apart from that, it also has five paid plans, Small Biz, Start, Grow, Thrive and Lead. The plans are differentiated based on the number of domains, users, and position checks. Higher the number, the greater the price. However, out of all five plans, plan Grow is the most popular one. It is cost-effective for SEO agencies. It offers access to 8 users, 80 domains, and 20,000 position checks.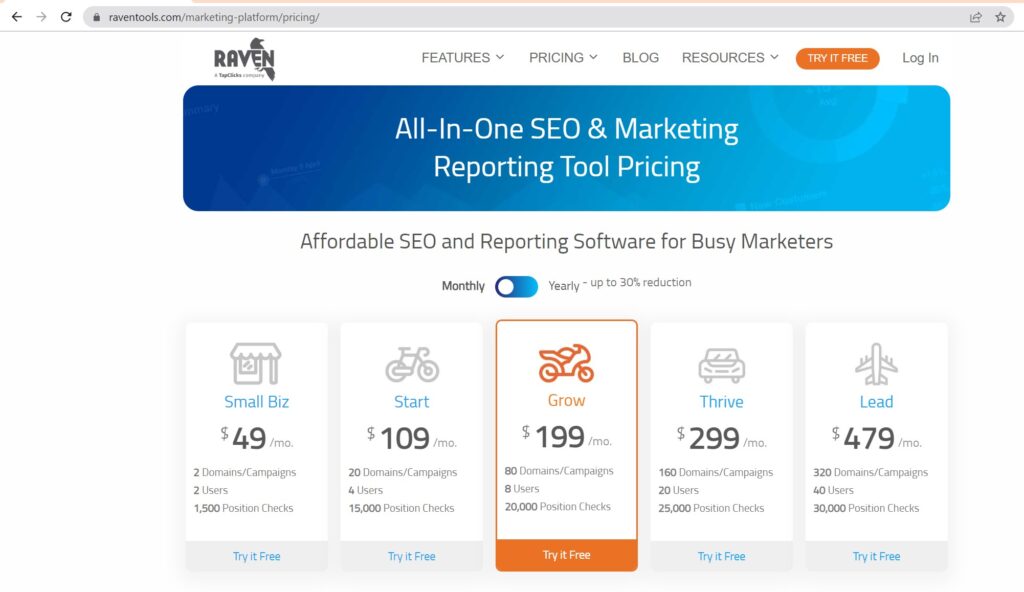 Raven SEO Alternatives
Despite RavenTool's great SEO tools, it takes a bit of time to master the software interface. Plus the integrations it provides are limited to some most common platforms.
There are several SEO tools available on the market that offer similar features at a lower price to Raven SEO.
Some of these include SEMrush, Ahrefs, SpyFu, and Majestic. All these tools have some commonalities like the ability to create reports, research keywords, and track rankings. But they differ in terms of the amount of data they provide. For example, SEMrush provides more than 100 million monthly searches, while Ahrefs provides around 50 million monthly searches. The following are some Raven SEO alternatives:
1. SpyFu
In terms of cost, SpyFu is a lot more affordable than Raven SEO. It costs about $39/month. However, it doesn't have a free plan. SpyFu is far more widely used by freelancers and SEO agency owners. While most of the features of this tool are similar to that of Raven, most users state that it is simpler to use than Raven Tools. But, it is important to note that, Raven's customized report generation tool is way too advanced than that of SpyFu. So, if you are someone who constantly needs to monitor data points and present them to your clients, you would want to consider Raven over SpyFu.
2. Moz
Moz is a tool most suitable for small businesses. It has high-functioning SEO features to attract traffic to a website. It helps well in link analysis, keyword research, and other research features. It has a very rich content library that helps SEO aspirants and even experts to excel at SEO performance. It fetches data from Google analytics and other third-party tools. In terms of cost, Moz costs about $99/month and is affordable.
3. Web CEO
This tool is best known for having good site audit features. It has features like keyword tracking, link analyzer, competitor analysis, and report generator. It supports multiple domains, devices, and users. It also has numerous metrics to track a site's SEO score. Web SEO is very similar to Raven when it comes to usability, features, and performance. Also, the pricing of Web CEO is a lot more affordable in comparison to Raven SEO. It costs only about $37/per month.
Conclusion
Raven SEO is undoubtedly one of the preferred SEO tools on the internet. It has many on-page and off-page SEO tools, performance analysis, and report generation features. Raven is best-suitable for anyone working in the field of SEO or content marketing. 
Nonetheless, we recommend checking out these Raven SEO alternatives for better, simpler functionality.