What is a piece of content without a set of winning keywords? The right keywords can bring fortunes of search traffic to your website and hence success to your business.
If you are someone who is on the hunt for a keyword tool with less or no budget, you have landed in the right place.
In this article, you will get to know about the best keyword research tools that are free to help you with target keywords, trend analysis, content ideas, and SEO.
Free Keyword Research Tools
We've collected a list of the 7 best keyword research tools you can use for free and still discover amazing keywords that are sure to increase traffic to your website.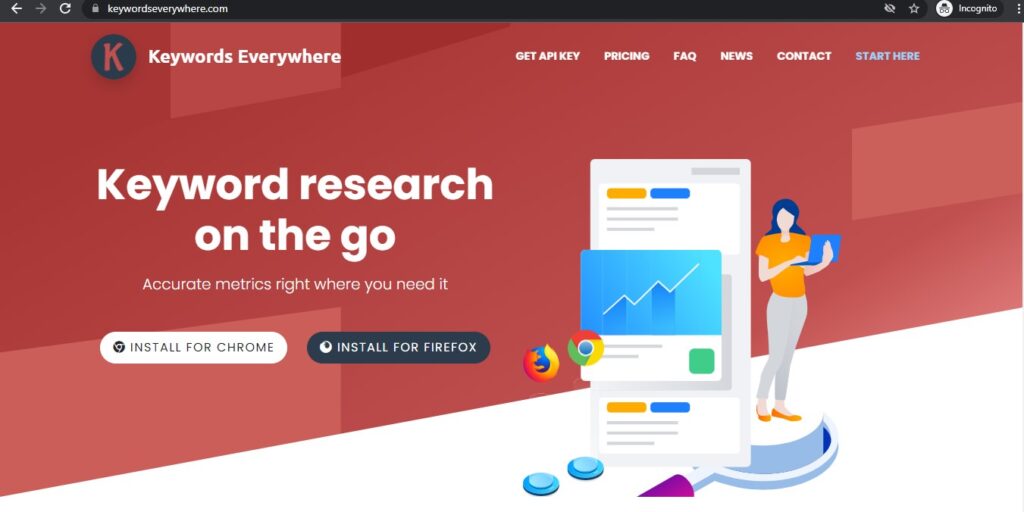 Keywords Everywhere is one of the best free keyword tools on the internet. It offers Chrome and Firefox extensions. It is best known for providing long-tail search phrases as keywords. But, it also provides insights on multiple parameters like search volume, CPC, and competition analysis. It helps users with the data for website traffic for the top 20 Google search results.
This tool provides historical monthly trend data from the years 2004 and 2008 for Google and Youtube respectively.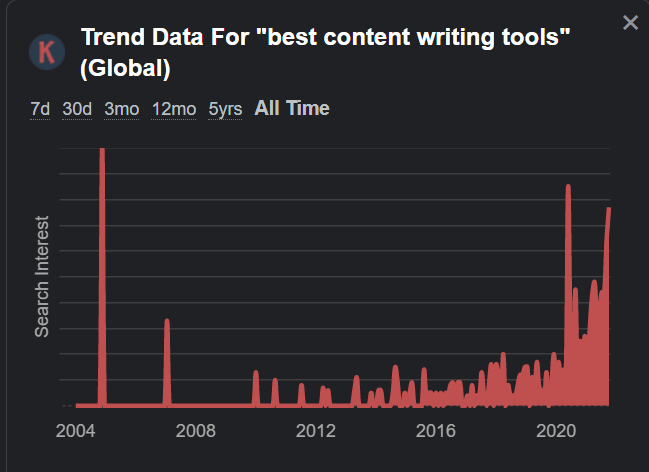 With the help of Keywords Everywhere, you can also study the competitive articles on the target keyword. It gives an analysis of parameters like organic traffic and total keywords for competitor websites.
By giving seed keywords as input, you also get access to the "people also search for" data, and winning keywords on Google and Bing. Keywords Everywhere also helps users to access the keyword metrics for any keyword list. A user can easily extract the data by downloading it in Excel, PDF, or CSV formats.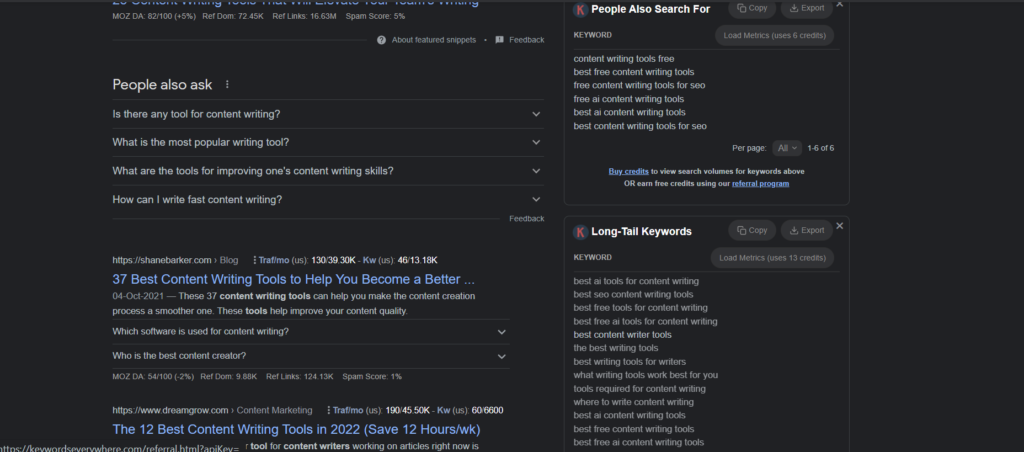 Pricing
Keywords Everywhere is a free tool as a Google Chrome or Firefox extension. It does have a lot of helpful SEO insights necessary for a content marketer. However, the paid version of this tool is available on a per-credit basis. A 100,000 credits cost you $10. 500,000 credits cost $50, and 1,000,000 credits cost $100. The credits are valid for one year from the day of subscription.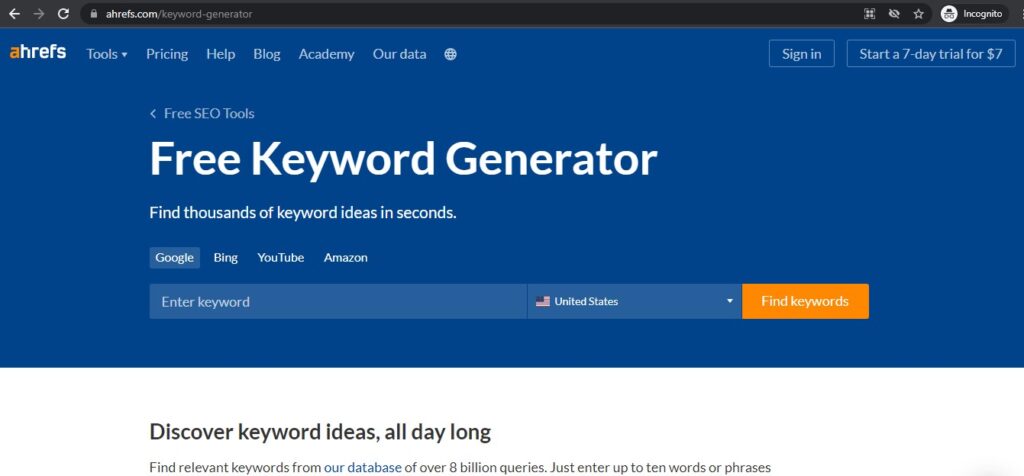 The keyword generator is one of many best SEO tools by Ahrefs. This tool is free to access without the necessity of signing in or installing an extension. You get a wide variety of data from across various countries and channels by just inserting a seed keyword. Undoubtedly, Afrefs Keyword Generator is one of the most efficient keyword research tools available for free.
The paid version of the tool has about 7 parameters for keyword ideas that consist of the entered seed keyword. The parameters include Phrase match, Having the same terms, Also rank for, Search suggestions, Newly discovered and Questions. This feature is a boon for content marketers to fill out content calendars for the upcoming months.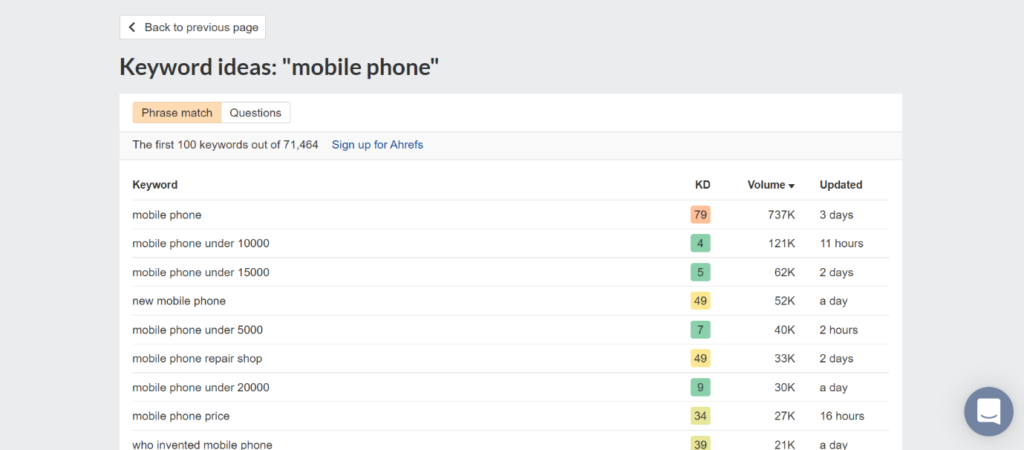 The Ahrefs Keyword Generator gives valuable insights into the number of clicks, CPC, search volume, keyword difficulty, and global search volume of a particular keyword.
Ahrefs keyword generator also provides high-quality keyword ideas based on questions asked for a particular search term.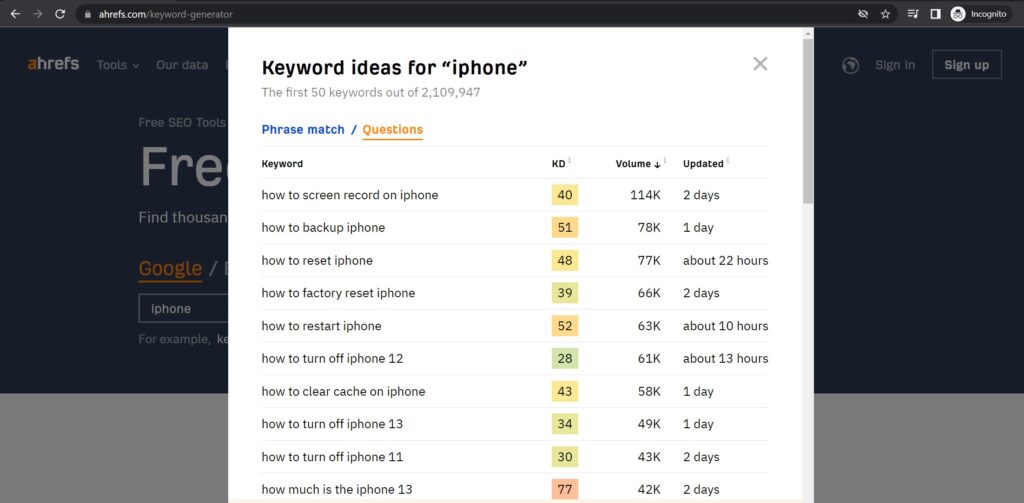 This tool fetches data from various channels like Google, Amazon, Bing, Youtube, Yahoo, Naver, Baidu and so on. It also allows users to save keyword ideas for later by exporting data via Excel or PDF.
Pricing
The Ahrefs Keyword generator offers four paid plans. The Lite plan starts at $99 and is suitable for small businesses. The Standard plan starts at $199 and is suitable for SEO professionals. The Advanced plan starts at $399, which is suitable for scaling businesses. The Enterprise plan starts at $999 which is best suited for big SEO agencies. The plans are monthly but offer discounts on yearly subscriptions.
Learn what other Ahrefs alternatives can be used for a variety of SEO tasks.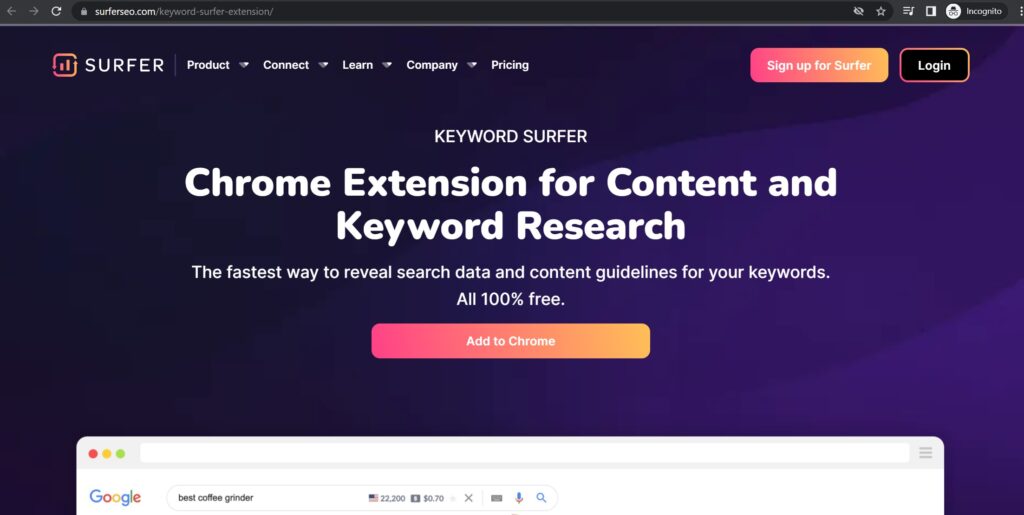 Keyword Surfer is a Chrome extension by Surfer. This tool is free to use and gives keyword ideas with their volume, CPC, competitor pages with analysis, and search traffic on top ranking pages.
For any query or seed keyword, it displays search volumes on monthly basis. It displays results for keyword ideas from across 19 countries.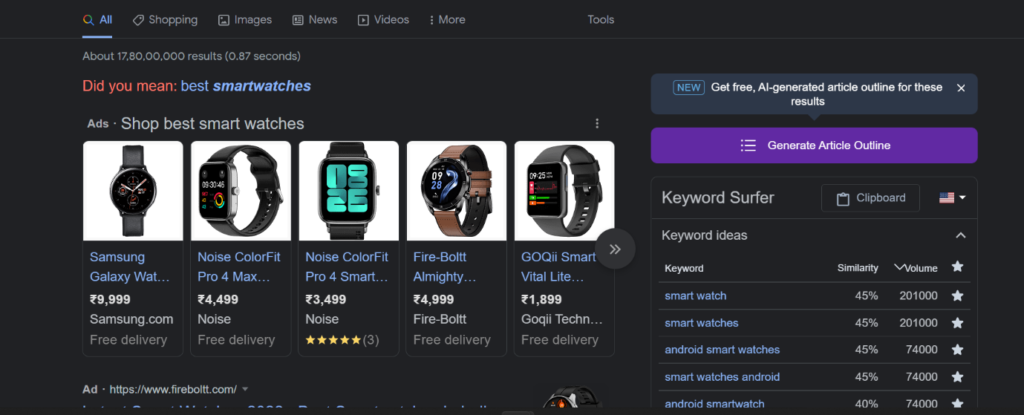 Users are provided with competitor data on the basis of various terms. Namely: a domain's monthly traffic, word count, main keywords, etc. The tool is easy to use, quick and free. It is most preferred by newbie content marketers and SEO content writers. However, the free version of Keyword Surfer does not have advanced features of keyword hunting.
Pricing
The paid plans of Surfer offer to generate and optimize your content development process. By subscribing to the Surfer paid plans you can build website(s) on autopilot, optimize articles, and audit several pages every month. The Basic plan costs $49 per month while the Pro plan costs $99 per month. The Business plan costs $199 per month.
Here is a list of Surfer SEO alternatives for SEO and content-related tasks.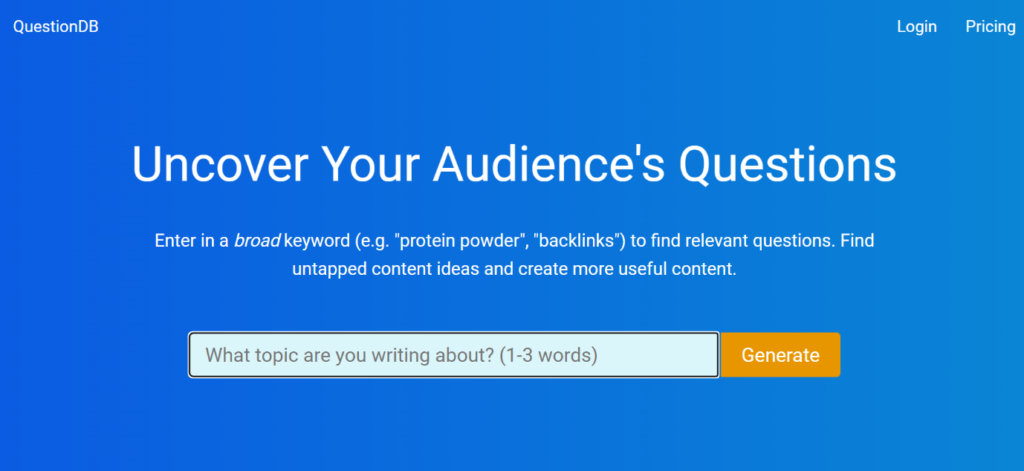 QuestionDB is a tool that does a job like no other keyword research tool. It helps you with content ideas in the form of questions. It derives results from many different sites like Reddit and Quora that are generating questions of your search term. The tool also traces frequently asked questions by your target audience to help your website/page achieve topical authority quickly.
One of the best features of Question DB is that it sorts questions in groups of relevance and popularity. The tool also gives a choice to fetch either questions or long-tail keywords on inserting the search term.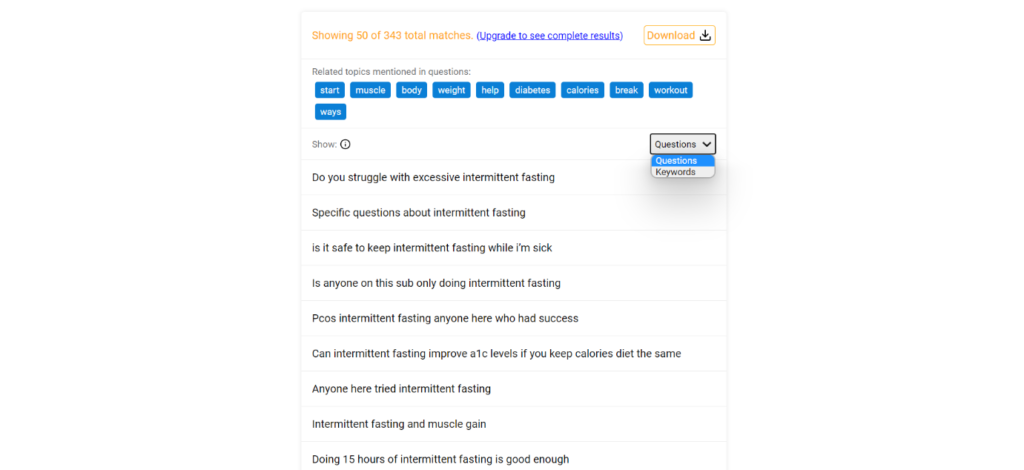 The tool does not give significant information on search volume, competition analysis or search traffic. Content marketers can use it along with other free keyword research tools for SEO insights.
Pricing
The paid packages of Question DB have Pro and Agency packages at the cost of $15/month and $50/month respectively. The Pro plan offers 500 searches/month while the Agency plan offers 5000 searches per month.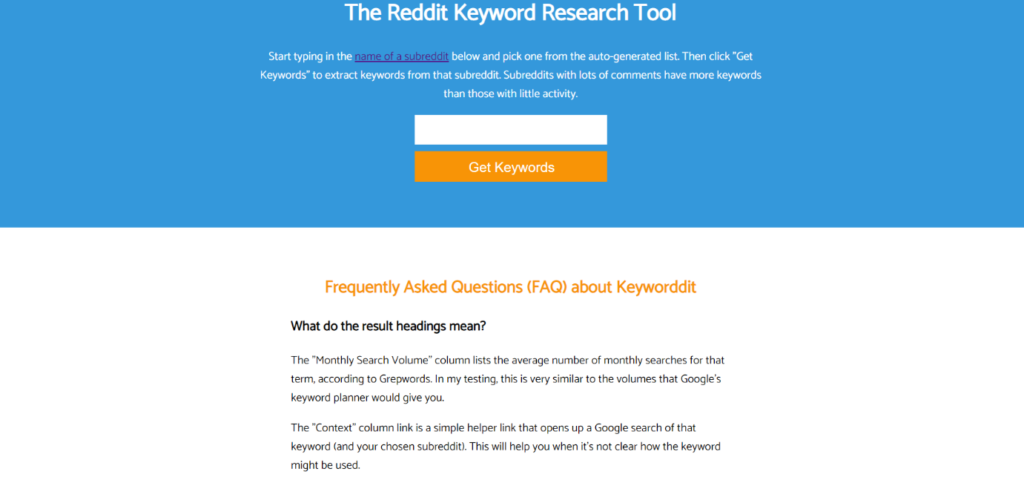 This tool derives the keywords from Reddit. On entering a keyword or a specific subreddit (specific topic), the tool gives results of about 500 keywords. It generates the keywords from top-ranking titles and comments on Reddit. This tool is best used for generating ideas that are most searched by your audience. On clicking the "context" you can reach the sources from where a particular keyword was fetched.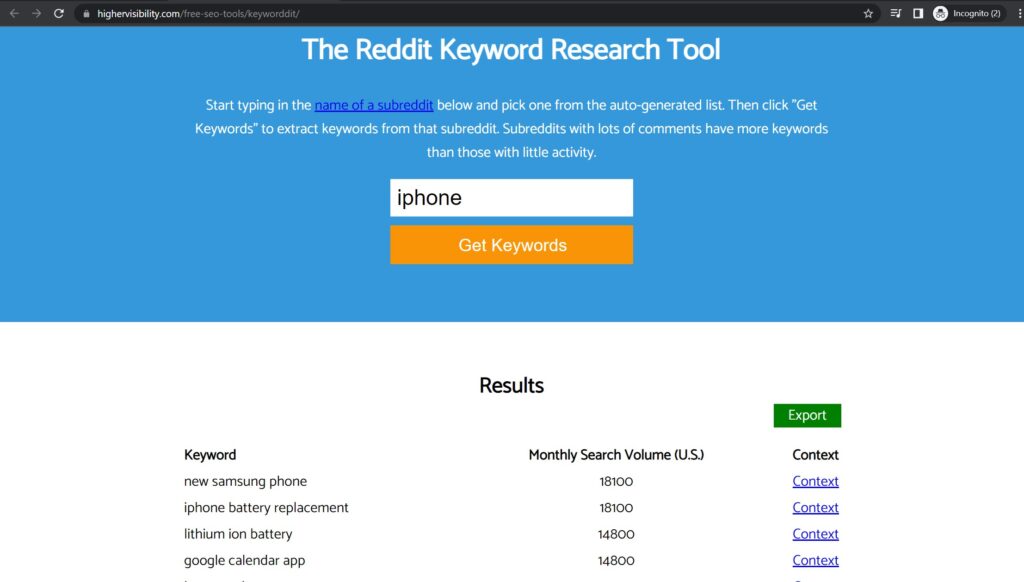 Keyworddit gives insights into the search volumes of each keyword. You can download the keywords list from the site in the form of an excel sheet. This tool is a great choice for startups and budding content marketers for it has very basic outputs in terms of SEO. It is a to-go tool if you are running short of ideas based on the most searched queries by your audience. But, for more advanced purposes, Keyworddit can be used with other efficient keyword research tools.
Pricing
Keyworddit is a tool by Reddit which is available for free. It does not have any paid plans as of now.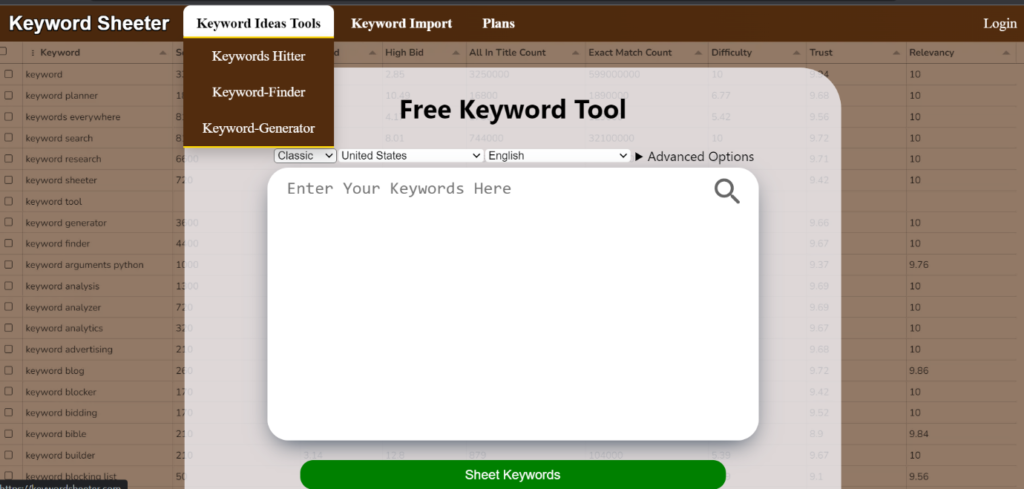 Keyword Sheeter is an efficient keyword idea-generating tool. This tool gives more than 1000 real-time keyword ideas by filtering various sources on the internet. On entering a search term or the seed keyword, you get an endless list of ideas for your page which is the best part of Keyword Sheeter. The results can be saved for free.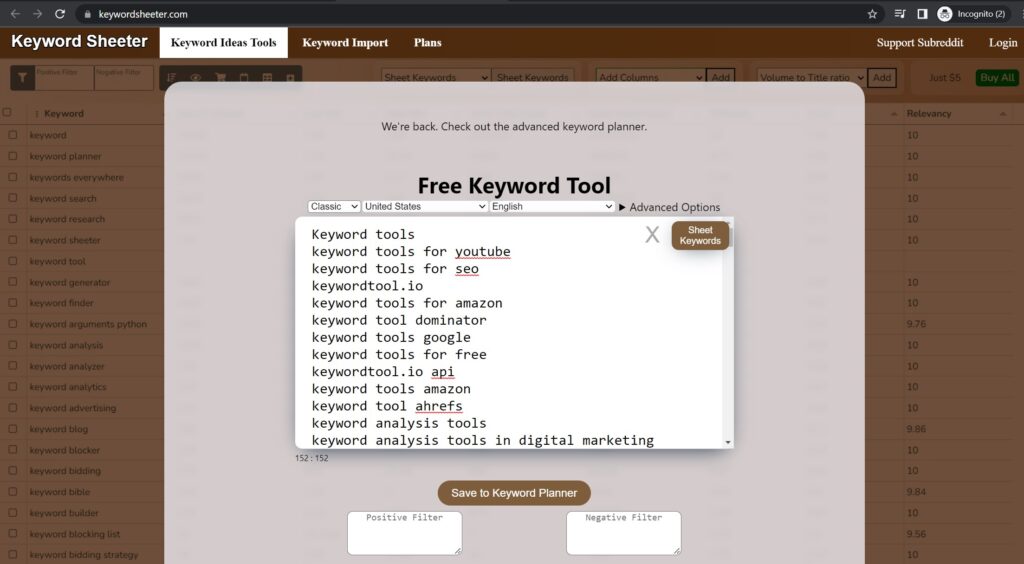 The data is mainly derived from the frequent searches done by the audience of the search term. If you are someone wanting to generate high-quality ideas for your website content, this tool is for you. The unique feature of the tool is that it provides positive and negative filters to bifurcate the keywords. The keyword groups that appear relevant to you can be a part of the positive filter. The tool automatically eliminates the opposite of it as irrelevant.
Pricing
The paid plans of Keyword Sheeter appear in different formats for different purposes. The Basic Storage for 500 sheet coins costs $9/month. The Starter Search volume plan costs $49/month and offers insights on CPC and a facility to save up to one billion keyword ideas.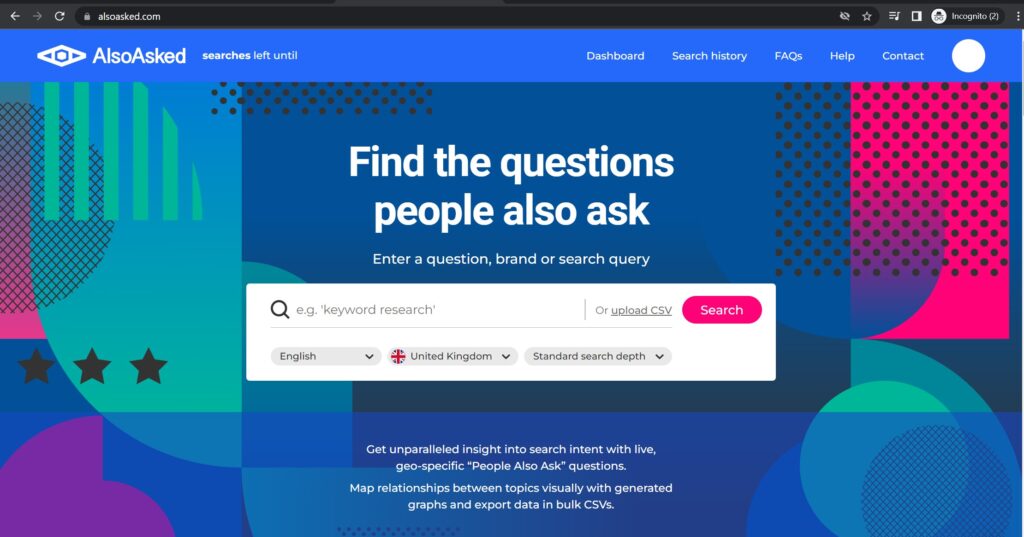 This is a tool that helps users with the questions asked by people on the search engines for a search term. Because the results show quality data of greater search volumes and low competition, the ranking of your page is given! The keyword ideas generated by AlsoAsked are real-time and hence enjoy the most clicks on headlines. This tool is helpful if you are a content marketer generating blogs or building PPC ad campaigns.
The tool also provides insights on the sequencing and structuring of data on the internal pages of your websites and the links therein. This helps your content to rank faster because it is structured in a way that pleases the search engines!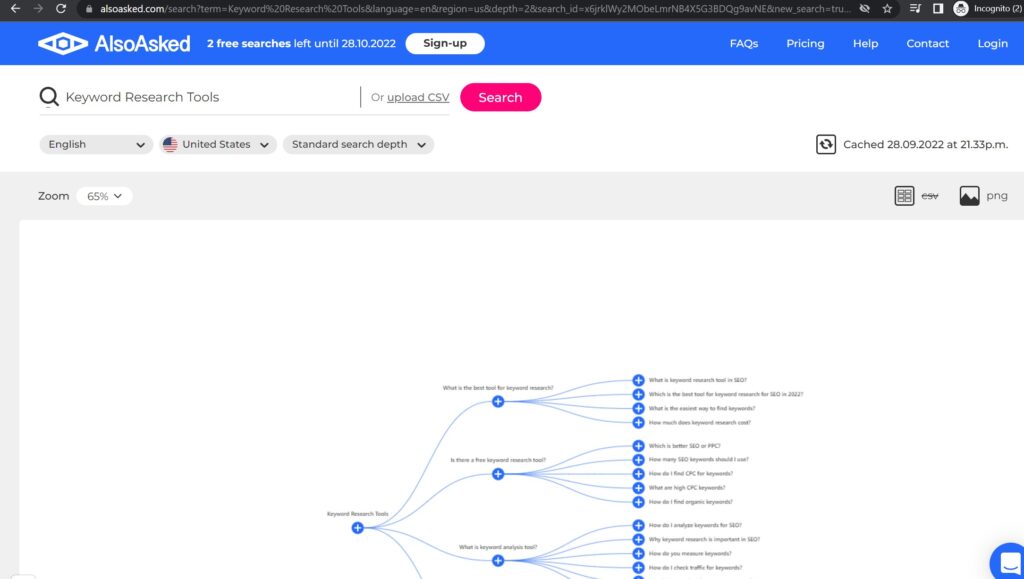 It is a great tool to use for content planning and topical research for it provides valuable insights and easy-to-use data. The feature of topical grouping helps content marketers to segregate thoughts, information and data that they wish to present to their audience. This tool helps to build quality content because it is based upon the search intent of the audience.
Pricing
There are three pricing plans for the tool AlsoAksed. The basic plan costs $15/month for 100 searches. The Lite plan costs $29/month for 300 searches with deep search and CSV data export. The Pro plan costs $59/month for 1000 searches with various advanced features.
Conclusion
As a content marketer, choosing the right keyword research tool is one of the most crucial tasks. However, your choice must be based on what you are looking for primarily.
If you are someone who is more interested in finding exemplary content ideas, then tools like KeywordSheeter or Keyworddit should help. If you are looking for content ideas in the form of ranking questions, QuestionDB and AlsoAsked are the tools you are looking for.
But if you are looking for a genuine SEO tool that provides insights on search volume, CPC, competitive data, etc., Ahrefs Keyword Generator, Keywords Everywhere or Keyword Surfer should help.
Using a few keyword research tools in combination will always yield the best insights.